Woods Travel
UK and European Coach Holidays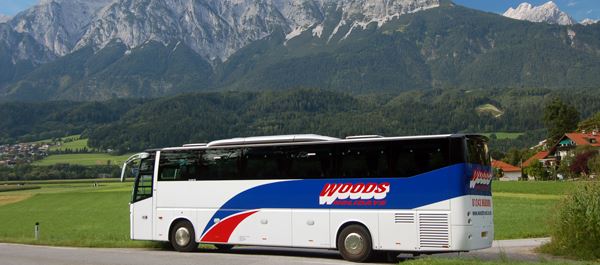 About Woods Travel
Woods Travel has been in business for over 45 years, serving the south with passenger transport to destinations all over the UK and Continent. Their emphasis has always been on quality and reliability and have managed to maintain throughout their expansion. This fact is demonstrated by the many industry awards they have won including:
- UK Coach Awards - Top Small Fleet Operator 2013 - 2016
- National Coach Tourism Awards – Coach Tour Operator 2015

Their fleet of luxury coaches are available for private, business and contract hire to any destination and for any duration.
Woods Travel run a large fleet of distinctive modern coaches, meticulously maintained by their own and outside contractors and driven by knowledgeable, uniformed drivers.
Over the years Woods Travel have developed a far reaching UK and Continental Coach Holiday Programme with departures to over 170 different destinations and, to compliment this extensive itinerary, they also offer an Air Tours Programme for those who prefer to fly to their holiday choice. The Christmas Holiday Programme has something to suit everyone.
Door to Door
Woods Travel are proud to have pioneered the concept of the DOOR TO DOOR service. This couldn't be easier. A taxi will call to pick you up from your front door and deliver you to your luxury coach. Your luggage is then transferred to the coach by the driver. On arrival at your destination whilst you settle into your accommodation your suitcase is delivered to your door. On your return, a taxi will meet the coach and transfer you and your luggage back to your home (within a specified area).