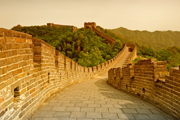 Wendy Wu Tours
Experience a different world
About Wendy Wu Tours
Wendy Wu Tours is the UK's leading China holiday specialist tour operator and a leading specialist tour operator to Vietnam, Cambodia, Laos and Thailand, as well as India and Sri Lanka.
The growth and success of the business have been propelled by the founder, Wendy Wu herself. Wendy was born in Tibet and grew up in China. After completing her studies, she decided to go to Australia where she began working for American Express, sending her very first group tour to China in 1994. Realising that her expertise and business acumen combined with a relatively untapped market were the perfect match for success in this field, Wendy set up her own company in Australia in 1998.
Following great success, Wendy Wu have opened offices in the UK in 2004 and in the US in 2010. Together, they are growing from strength to strength, delivering unique travel experiences to an expanding range of destinations.
Why Wendy Wu Tours?
Authentic Travel Experiences
With Wendy Wu Tours, you will not only visit your holiday destinations' famous attractions but really discover the country's culture, natural beauty and hidden treasures.
Inspiring Range and Choice
They constantly re-create their innovative programmes, endeavouring to appeal to even the most varied of tastes, to inspire you and to ensure your holiday with us is truly a holiday of a lifetime.
Peace of Mind
They strive to provide stress-free customer experiences. They are offering truly fully inclusive prices, a complimentary visa service and more. Their tour leaders and guides are passionate about travel and pride themselves on their professionalism, knowledge and caring nature, which allows their customers to just relax and enjoy their trip.
A Personable Service
Despite their continous growth, Wendy Wu Tours remains a personal business. They are listening to their customers, are dedicated to understanding their needs and value long-lasting relationships with you.
Safe & Secure
Being fully bonded with ABTA, AITO, ATOL and IATA your holiday with Wendy Wu Tours is 100% financially secure.
An Award-Winning Company
Over the last couple of years, Wendy Wu Tours has won a number of prestigious travel industry awards, all recognising the hard work both their teams in the UK and in destination have put in to deliver the best product and service to their customers.