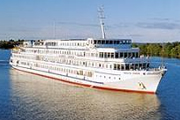 Viking Cruises
The World's Leading River Cruise Line
About Viking Cruises
Viking Promise: Quality, Service and Value
Viking Cruises operates the world's largest and leading fleet of deluxe vessels built specifically for river travel. With its fleet plying the waterways of Europe, Russia, Ukraine and China, Viking has welcomed more than half a million people on magical, enlightening journeys through these exciting places.
Elegant, Comfortable Ships
Viking ships are Scandinavian in design, with open, airy interiors by famed Norwegian maritime architects Yran & Storbraaten. Guests enjoy all the amenities they might expect in a fine hotel, plus expansive, panoramic views throughout.
Spacious Accommodations
Every stateroom has an "outside" river view with a window or balcony for viewing scenery, and on every ship, most windows open to the fresh air. Experience the comfort of hotel-style beds with European linens and duvets, and satellite television with BBC, CNN and other programming.
Gourmet Cuisine
Enjoy sumptuous breakfasts and wonderful lunches and dinners with Viking. Created by European and well known chefs, their menus combine regional specialties with gourmet fare to delight the most discriminating palate. While meals are casual, open-seating affairs, the atmosphere is always elegant.
Expert Planning & Execution
When you travel with Viking, you can relax knowing that all the details of your experience,both on board and ashore, will be fun and interesting. Their knowledgeable Programme Directors, all Viking staff members, are completely devoted to ensuring that every trip you take with us exceeds your expectations.
Cultural Enrichment
On every Viking itinerary, their expert Programme Directors provide background, context and regional perspective. Demonstrations, lectures and workshops supplement on-shore exploration. And now, they take you to a wider range of destinations than ever before—which means more cultural traditions, cuisines and wines, games, music and dances to experience and enjoy. This adds up to a personalized, in-depth experience wherever you travel with Viking.
Consistently Excellent Service
Wherever they sail, you enjoy the same standard of service—because they manage it all: nautical, technical, catering, sightseeing and guides. With operational headquarters in Switzerland and offices in both Russia and China, they oversee these regional shipboard operations.
The World's Most Award-Winning River Cruise Line
Viking have consistently placed high on competitive rankings like Condé Nast Traveler's Gold List, Reader's Choice and Best Small Ships awards; and Travel + Leisure's World's Best; they have also been honored by prestigious international organizations like the World Travel Awards. Meanwhile, travel agents have recognized us with awards including TravelAge West's Best Line for River Cruising and Travel Weekly's #1 River Cruise Line. And Viking is featured in National Geographic's The 10 Best of Everything.