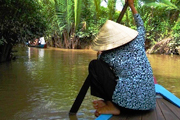 Travel Indochina
Share the experience
The UK's leading experts in small group tours and tailor-made holidays to Asia
As the UK's leading Asia specialists they share their experience and genuine passion for the region, which has earned them a reputation for creating life-changing holiday experiences delivered with the highest standards of service. Their small group tours and tailor-made holidays to Vietnam, Cambodia, Laos, Burma, China, India, Japan and other destinations across Asia are unmatched in the UK for quality and authenticity.
Single Traveller
Their small group tours are an increasingly popular choice for single or solo travellers wanting to experience Asia with like-minded people. With Travel Indochina you'll experience a unique combination of Western tour leaders and expert local guides while enjoying innovative experiences and carefully selected hotels. Plus, avoid any single supplement by opting for their "Willing to share" option.
A family holiday in Asia
Join a small group of other like-minded families on an unforgettable family holiday in Asia. Enjoy comfortable hotels, the experience of their Western tour leaders and the expertise of Travel Indochina famed local guides. Not only will you see the very best each destination has to offer, you'll also experience itineraries that are crammed with truly unique activities that they have specially researched for the enjoyment of kids and adults alike.
Get your own group together
If you are an experienced groups coordinator or this is your first time arranging group travel to Asia from the UK, Travel Indochina can arrange flights, ground logistics, a broad range of accommodation and innovative touring in destinations across the region with exceptional levels of service delivered by their team here in Oxford and ground offices across Asia.