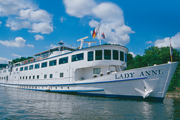 The River Cruise Line
A great selection of European River Cruises
About The River Cruise Line
The River Cruise Line is fast becoming a leading tour operator specialising in European river cruises. As a well respected company in the industry, they are the preferred operator for many publications who they work in partnership with by offering their readers high quality and value for money holidays.
They are passionate about what they do and from their office in Market Harborough their team of dedicated staff commit themselves to provide products which excel in the tourism induastry. Their expanding portfolio of holidays continues to widen their market to an assortment of tastes and budgets, but they remain an independent tour operator, relatively small in comparison to the major publicly owned companies, adding a personal touch to the professional service they offer.
They firmly believe that their customer's needs come first, a traditional value which has been the key to their rapid success and development and is still very much at the core of their day to day practice. For most people their holiday is the highlight of the year – a time to rest, relax and get away from it all, whether you're travelling to another country or staying close to home. That's why every element of every holiday they put together is done with the due care and attention needed to ensure everything runs smoothly.
Whilst they look forward to a continued success and a bright future, you can be sure that they will be working hard behind the scenes to ensure their reputation for high standards and great customer service remains absolute.