Skills Holidays -
UK and European Coach Holidays
Take a look here for Skills Late Availability

About Skills Holidays
Skills Holidays offer an unrivalled blend of quality and exceptional value for money, and take great pride in the loyalty shown by their regular customers, who return year after year. They have something to offer to suit all tastes and pockets, ranging from the upmarket Skills Holidays product, to the super value for money Coachstyle programme. They operate a fleet of modern touring coaches from a new purpose built 2.5 acre site in Nottingham. A continued investment programme in state of the art technology coupled with annual vehicle purchases mean Skills will continue to deliver its high quality service throughout the 21st century.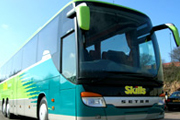 Unlike many of our competitors, Skills Holidays own and therefore fully control their own fleet of modern touring coaches. Several millions of pounds have been invested to give you the very best vehicles that Europe has to offer. On most holidays they employ their Setra coaches that not only offer extra legroom, but air-conditioning, toilet/washroom, seat belts and drinks facilities all come as standard.
Skills Holidays is all about personal, friendly service so check out their holiday programme and come and join us to see for yourself! There is no finer or friendlier way to enjoy a memorable holiday with a company that prides itself in offering quality and value for more than 99 years.
A family run business, Skills Holidays can trace its routes back to 1919 when Arthur Skill started up the company. Today, grandsons Nigel and Simon Skill, are following in his footsteps by offering holidays and excursions by coach to the very best of and Europe. It is currently managed by Nigel Skill (Managing Director), Simon Skill (Financial Director), Roy Finch (Commercial Director) and Peter Hallam (Operations Director).
Departure Points
I'm sorry we currently don't have any tours available for this operator.