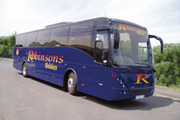 About Robinsons Holidays
Robinsons Holidays are long established in the niche of comfortable international coach travel. Quality and exemplary service have been the very hallmarks of this family run company for over eighty years.
Our beautifully appointed fleet of coaches all provide uncommonly spacious seating, large panoramic windows, modern WC facilities and climate control air conditioning for your comfort. Our travel operations extend across the United Kingdom and Europe, combining comfort, convenience and security for all our passengers. Our motivated reservations team provide and excellent calibre of service throughout your tour and are available seven days a week for your communication.
Robinsons Holidays aim to deliver all your expectations whether you are seeking the mild climate of the south coast or the dynamism of Eastern Germany.
Our pick-up point programme includes 161 meeting points throughout the North West, Yorkshire and the Midlands. We have reconfigured the seating plan within our touring fleet to accommodate a maximum of 43 or 48 passengers dependant on the length of the coach. Our roomy, reclining seats have comfortable supported footrests for your extreme relaxation.
Our UK fleet primarily operate to five of our own southerly based hotels throughout the year. The growing demand for more luxurious accommodation has spurred an ongoing refurbishment programme within our own properties and you can be assured a comfortable standard of accommodation with no additional single and a selection of traditional dishes from table d'hote restaurant menus.
Popular tours
Sat, Nov 26th
2016
Eastbourne - Turkey and Tinsel
5 days

£179

£174
View Tour
Sat, Nov 26th
2016
Torquay Turkey and Tinsel
5 days

£179

£174
View Tour
Sat, Nov 26th
2016
Shanklin - The Isle of Wight - Turkey and Tinsel
5 days

£179

£174
View Tour

*Terms and Conditions: 3% discount only applies to holidays over £150pp.