Riviera Travel
The UK's Favourite Escorted Tour Operator
Have an unforgettable journey with Riviera Travel. Find a great range of holidays to destinations like: Europe, South Africa, America, Middle East and many other worldwide locations that they are truly passionate about.
Departure Points
I'm sorry we currently don't have any tours available for this operator.
About Riviera Travel
The Riviera Style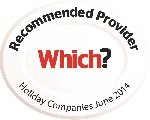 Since our inception in 1984, everyone here at Riviera Travel has endeavoured to exceed the expectations of the discerning traveller. Our clients frequently comment that we have a style unique in tour operating - a real family ambiance. Firstly and most importantly, we treat all our clients as individuals, offering a flexible service, catering for all needs. If you want to take part in everything that's included on our tours, that's fine, if not, that's fine too as it's your holiday. In most cases, you will be able to eat when you want and sit with whom you want. If you want to explore on your own, no one will put any pressure on you not to. If you read the testimonials, you can see our customers really appreciate this.
Tour Managers
All our tours are escorted by our own Tour Managers, whose enthusiasm and intimate knowledge of the destination will bring your holiday to life.
Quality and Peace of Mind
When you travel on a Riviera Travel holiday, a Riviera Travel holiday is exactly what you get. Obvious perhaps, but with many other operators this may not always be the case. Occasionally they 'badge' a tour already operated by a local company based in your chosen destination. This means you may have multi-lingual commentaries and the itinerary may not be tailored as you would wish. We select all of the individual elements that make up our holidays - hotels, suppliers, local guides, visits, in fact everything so they are exactly right for our clientele. Compromise is not part of our vocabulary. In addition, whilst on holiday you have 24-hour, UK-based emergency telephone line for complete peace of mind.
Trust
We are an independent travel company, which means we are not part of a large, multi-national impersonal organisation. This independence gives us the freedom to combine the very best airlines and hotels to offer you a choice of high quality itineraries. Our professional, unbiased advice and our investment, research and staff are solely focused on creating the most inspiring and best value escorted tours possible. All these elements ensure our passion and commitment to quality and value, the hallmark of Riviera Travel, are guaranteed.
Passion
A much used and misused term but we genuinely believe Riviera Travel must be the most passionate tour operator in the UK today! A brave claim but one we make with certainty. Firstly, we only operate to places that we are truly passionate about - after all, if we cannot be passionate about the destinations we offer, how can we expect our clients to be? This is our simple and honest approach and it has served us well over the years. When we create a tour, we spend an inordinate amount of time on research, so your holiday becomes not just a travel experience, but one of genuine pleasure, education and entertainment too. Our aim is to offer an experience that allows a memorable journey through time and culture, breaking through the obvious veneer often presented to the tourist, to the real destination beyond. We want you to visit the classic 'sights' plus lesser known, but equally inspiring places too. Sometimes just by enjoying intimate walking tours, meeting local people and understanding their hopes and aspirations, the world becomes a smaller place. This is what we mean by passion: a passion for travel and a passion for people.