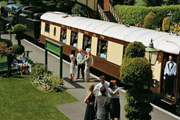 Orient Express
Save 5%* on all Orient Express holidays
About Orient Express
"We promise a world of unique experiences: the unexpected, the authentic and the meaningful."
Their Collection
Their collection encircles the globe, with hotels, rail journeys and river adventures on six continents. From grand city landmarks to wilderness safaris, from iconic restaurants to canal cruises, they see travel as an opportunity for enrichment and surprise.
Authentic local experiences make travel more rewarding. They surprise. They inspire. They can challenge or entertain. Whatever they do, they keep us coming back for more.
All of their hotels, restaurants and trains have their own, unique characters. Each is a vibrant part of its destination and the local culture.
Take the Mount Nelson Hotel for instance – its exquisite gardens are filled with indigenous plants found only in the lee of Cape Town's Table Mountain, or Hotel Monasterio in Cuzco, a blend of Inca and Spanish colonial heritage. Then there's the '21' Club – a buzzy, fun-loving restaurant that's irrepressibly 'New York'.
Their collection is diverse, spanning land and water, adventure and relaxation, local individuality and iconic opulence. Come travelling with them and discover a new and unexpected world.
Their Story
There's often more to a name than meets the eye. They're fortunate that ours has symbolised the world's most romantic railway journey for over a century. But today it stands for so much more.
Since the acquisition of Venice's Hotel Cipriani in 1976, new hotels, trains and river cruisers worldwide have joined their collection. Many of these, such as The Ritz, Madrid, St Petersburg's Grand Hotel Europe and Rio's Copacabana Palace, are destinations in their own right.
Beach resorts, safaris, restaurants, and luxury trains have joined the portfolio as it has expanded over the years. All have their own names and personalities and are managed by local teams who regard them as 'their' properties and are encouraged to innovate and contribute new ideas.
*Terms and Conditions: 5% discount only applies to holidays over £140pp.