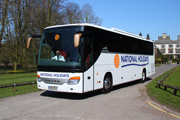 National Holidays
Save 3%* on all National coach holidays

About National Holidays
Sensational value holidays & short breaks by coach across Britain, Ireland and Europe ...
Inclusive Itineraries
Virtually all short breaks and holidays include a detailed programme of exciting excursions and days out, all carefully planned to add to your holiday enjoyment.
Style, Comfort & Safety!
Every holiday features travel in style and comfort, with all coaches offering individual reclining seats with seat belts for your safety. All holidays also offer the reassurance of on-board toilet facilities and also full air conditioning for your added comfort.
Sparkling Entertainment!
Many holidays also feature a programme of colourful evening entertainment for your enjoyment. Look out for holidays featuring sparkling cabaret entertainment every night - to make your holidays really go with a swing.
Reserved Seating
At the time of booking most holidays offer the option of reserving your seat.
Select Quality Accommodation
Every featured weekend break, short break or holiday comes with the total reassurance of select accommodation, always carefully chosen and promising high standards of service and hospitality.
Local Departure Points
On most of their holidays you can join your holiday coach from your local departure point and relax from the very start.
Assistance with your Special Needs
In order to ensure your total enjoyment of your holiday, their staff will be pleased to advise and assist with any special requests, however large or small. From special dietary requirements to matching the suitability of any holiday with your individual circumstances, their reservations systems are designed to ensure that all requests made at the time of booking are properly forwarded to their hotels and honoured, whenever possible and practical. If in doubt please don't hesitate to ask.
*Terms and Conditions: 3% discount only applies to holidays over £150pp.