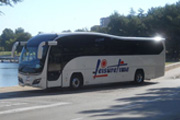 Leisuretime
Short breaks & holidays in Britain and Europe
UK and European Coach Holidays

About Leisuretime
Leisuretime provides holidays by coach departing from Wales to destinations throughout Britain and Europe. Leisuretime enjoys unrivalled customer loyalty and has an enviable reputation for quality and excellent value of money.
For your convenience, Leisuretime offers a network of free local departures from across the South Wales region.
Leisuretime really does have some great tours, destinations and hotels…and all at its usual, unbeatable prices. And that means, unbeatable! In fact, it's guaranteed. Check out the 'Price Guarantee' for details.

Leisuretime has entertainment breaks, seaside, countryside and heritage holidays. It has 3, 4 and 5 star premium breaks too. Look out for those fabulous late specials, and the 'all inclusive', free-bar, shopping, mini-cruise & theme breaks. For later in the year try the festive party breaks, Turkey and Tinsel breaks and the Christmas and New Year holidays.
Leisuretime has breaks to some of the UK's greatest events appealing to all ages and interests; from West End shows to Formula 1 and Rugby breaks; from Flower Shows to Glen Miller weekends; and from the Edinburgh Tattoo to stadium tours…there really is something for everyone.
With Leisuretime, you could go for a quick 2-day UK weekend away for just £49, longer holidays of 5 and 6 days or even a tour through Europe lasting as long as 12 glorious days.
And don't forget that new short breaks and holiday offers are added regularly throughout the year.
No currency surcharges with Leisuretime
Where will the Pound sit with the Euro this year?
So that you won't have to worry about such matters, Leisuretime guarantees that it will not add any currency surcharge on your European Leisuretime holiday. And if you'd like your pound to stretch even further, look out for the 'Inclusive' holidays to Europe, many of which include lunches, drinks and more!
Included excursions
To enhance your holiday experience Leisuretime includes excursions on most holidays. See the holiday description for details.
Single Traveller Holidays
Leisuretime works very hard to provide holidays with no or low single room supplements. Remember that single rooms go quickly, so book your seat as soon as you find the holiday of your choice.
Your Financial Protection
The Package Travel, Package Holidays & Package Tours Regulations 1992 requires Tour Operators to provide security for the monies that you pay for package holidays booked and for your repatriation in the event of the Tour Operators insolvency. Leisuretime complies with these regulations. Please read Leisuretime's 'Fair Trading Agreement' for more information.