Laver Holidays -
Door to Door Coach Holidays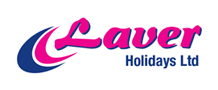 About Laver Holidays
Laver Holidays was founded in 1991 by current directors Tony and Jean Laver. At the time there were two offices, Derby and Nottingham, and a total of five staff. Their son Martin, and daughter Kim joined in the early days and daughter-in-law, Anita followed. Granddaughter, Donna, is now also fully entrenched as company accountant!
The company now employs 15 people, full or part-time, and operate from three offices around the East Midlands. The company have proved to be innovators for the coach holiday industry in as much as they were amongst the very first in the country to provide a 'Door-to-Door' service, with every passenger being collected from their home - and the very first to introduce 'Mystery Tours' of more then 1-day.
Since then other innovations have followed, such as a small bag of sweets for each passenger on departure, printed itineraries to enjoy and keep and, since 2005, the introduction of 'Mature Singles Holidays', especially designed to compensate for the fact that most tour companies fail to provide enough single rooms to meet demand - another 'first' for Laver Holidays, but one that has quickly been emulated by our competitors!
Air and cruise holidays have been introduced more recently, giving Laver Holidays one of the most comprehensive programmes offered by any family business, certainly in the Midlands.
There are many things about us that make us unique & many reasons why we have proved so popular over the years:
Air conditioning, hot drinks, toilet & reclining seats on EVERY coach!
£1 per day discount on EVERY tour for people aged 55 and over!
Friendly & experienced coach drivers & office staff!
A simple & hassle-free booking service!
NO feeder coaches - just 4 pick-up points & you're on your way!
We HATE extras - insurance & excursions are included in the price you see!
We have a HUGE range of holidays of every duration & distance by coach, air & sea!
We have escorted tours for the more nervous traveller!
We have about 20 singles tours every year - with unlimited single rooms & NO supplements to pay! These have proved to be extremely popular with friendships being created on every tour.
We have about 30 GOLD coach tours every year with rear tabled areas on the coach, welcome drinks at the hotel & newspapers on the day of departure!
We have about 30 'Lazy Breaks' every year for those of you who prefer to simply relax!
New hotels & itineraries introduced every year so you will never get bored!
NO late cancellation of tours!
A bag of sweets & a printed itinerary leaflet on EVERY coach tour!
There are a number of Mystery Tours each year for those of you who like a surprise!
And of course our 'Door-to-Door' service is provided on EVERY departure of 3 days or more! We were the first company to introduce this service and, although we have since been copied, nothing can beat our 20-years of experience!