Johnsons -
Quality Coach Travel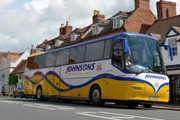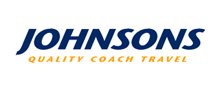 About Johnsons Holidays
Established for over 100 years, Johnsons are an award winning, friendly, family business specialising in top quality escorted door to door holidays, short breaks and day trips.
They are based in Henley-in-Arden near Solihull. They pride themselves on offering excellent value and friendly customer service; their company motto "Travel with Johnsons – Travel with Friends" is reflected throughout their business
Why choose a holiday by coach?
Firstly, you'll notice how friendly and social everyone is; consequently lots of their customers make new and long lasting friendships on holiday with them. This is especially important for customers travelling alone, sometimes for the first time.
Enjoy the Views!
You'll immediately notice how much more scenery you can see from your comfortable coach seat. On a Johnsons high-liner coach, you are seated 10 feet up in the air – so you can see over all the hedges at the wonderful scenery beyond, whether you are in Sidmouth or Switzerland!
Sit back, relax – let the driver and courier do all the organising! Holidays by coach are absolutely perfect for seniors - who want to relax, sit back, enjoy good food and company and let someone else do all the organising and driving. Our drivers & couriers are trained to the highest level and are hand picked for our tours team not only for their skills but also their ability to complement each other on board. At Johnsons they have the itinerary and hotel arrangements all organised and nothing is left to chance. Their policy is to include as much as possible in the price so that customers do not have un-welcome surprises during the holiday. For example, all sightseeing excursions are included and so too are any entrance charges for attractions visited…these may be historic houses, gardens, boat cruises, scenic railway journeys and much else besides.
Your Hotel
Comfort and quality are core elements in a Johnsons holiday. Their programme includes almost exclusively 3 and 4 star hotels which are in great locations for touring that area. Many are family run hotels which Johnsons have used for many years – hotels which have earned a fantastic reputation with their customers, many of whom return year after year. Bedrooms will have every comfort and the food is great too! Breakfasts are always extensive to say the least – and dinners are always 3 courses plus coffee. On UK holidays there is always an extensive menu choice; continental holidays are sometimes more limited however customers are always well fed!
Home pick up service
The practicality of how customers join their holiday is always important. Johnsons quote these words in their brochure – "make it as easy as A – B – C"! Three options are offered; most customers choose option A which is free 'door to door' service from their own home. They are collected by car or minibus and taken to the holiday coach. This process is reversed at the end of the holiday. This takes all the stress and anxiety out of the start of the holiday and as Johnsons say, "Just pack your suitcase and wait for the doorbell to ring"! Option B allows customers to drive to their spacious premises at Henley-in-Arden and park in their secure car park – free of charge. Option C is where customers can simply be dropped off and collected again by friends or family. Whatever customers choose, Johnsons make it nice and easy.
Add to all this, the inclusion of a Johnsons 'club class' coach which provides extra legroom for every passenger and you have a great holiday package indeed! One final quote from the Johnsons brochure…"Enjoy the Views – Treasure the Memories"!