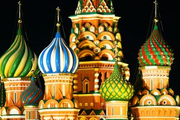 IntouristUK
Russian travel experts since 1938
About IntouristUK
IntouristUK – The Russian Travel Specialist Since 1938...
IntouristUK have been opening the gates to travellers wishing to experience the enigmatic spirit of Russia and her somewhat mysterious neighbouring countries. Not your typical package holiday destination, these countries conjure up images of mystery, romance and wilderness, but also culture, elegance and poetry that combined together cannot fail but cast a mesmerising spell over all who go there.
IntouristUK can help you select and build your dream trip that is sure to exceed your expectations. From city breaks to thrilling expeditions and from Trans Siberian adventures to relaxing river cruises – we've got it covered.
We are a enthusiastic and experienced team passionate about Russia and her neighbours, dedicated to giving you the best possible trip. With the benefit of ABTA, ATOL and IATA protection and our trusted suppliers and hotels, we are proud of our unrivalled know-how and ability to provide you with the most reliable, up-to-date, specialist knowledge available anywhere on the market.