Netherlands Christmas Markets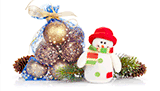 Holland Christmas Markets 2016
Start the christmas festivities with a coach trip to a christmas market in Holland. Search for the best deals on christmas market breaks in Holland and save £££'s on your christmas coach tour this winter. We have a number of great offers on christmas markets in Holland to destinations such as Deventer, Valkenberg and Winterlaand in Maastricht as well as multi centre coach tours that take in the christmas markets in multiple destinations. Christmas market coach tours can also be combined with other European destinations such as the Brussels Christmas Market in Belgium.
As Holland is relatively close to the UK it is an ideal christmas market destination to visit by coach, with short journey times and some fabulous markets to enjoy. Wherever you choose, Dutch christmas markets offer stalls bursting with traditional crafts, gifts and local treats, and are ideal for a christmas shopping spree!
Read on for more information about some of the christmas markets in Holland, Alternatively use the search form to the left to find your perfect christmas market break. Further information about dates and special offers for Holland christmas markets in 2016 will be available soon.
Deventer Christmas Market 2016
From mid to late December Holland's historical riverside city of Deventer hosts the popular annual Dickens Festival each year. Characters straight from the famous novels of Charles Dickens such as rich ladies, poor tramps dressed in rags and young street urchins will be seen around Deventer's streets. Towering Christmas trees and some 200 stalls amongst beautifully restored gabled houses form an attractive local decor. Don't forget to sample the famous Dutch 'Deventer Koek' gingerbread. A large number of Dutch musicians and choirs will perform on the Sunday in the streets and in the various local churches.
Fluweelengrot Christmas Market 2016
One of the most anticipated Christmas events in Holland is the Fluweelengrot (Velvet Cave) Christmas Market in Valkenburg. Set within the labyrinth of caves beneath Valkenburg Castle ruins, the market draws on the ancient legendary tales of Valkenburg immersing you in a truly magical atmosphere. You will find many unique local and international handmade products such as nativity scenes, sculptures, Christmas decorations, wreaths, candles and much more - there is an array of edible gifts too! Each year the market has a different theme; in 2010 it was a Charles Dickens Christmas. It would not be a Dutch Christmas market without the traditional poffertjes (mini pancakes) and famous Dutch pea soup! This is the Netherlands largest commercial Christmas event attracting over 125,000 people each year. All proceeds go towards the Valkenburg Castle Foundation, which maintains the castle ruins.
Winterland Maastricht Christmas Market 2016
Maastricht is transformed into a winter wonderland during the Christmas season, where even Santa has made his home. There is much to do for all ages, big kids and little kids alike. The Christmas market offers a variety of gifts to treat loved ones and yourself. With over 50 stalls of seasonal food and drink, you cannot leave without sampling winter Dutch cuisine such as oliebollen, poffertjes and Gluhwein. Why not have a go at turning pirouettes on the ice skating rink and then taking a ride on the Ferris wheel and enjoy the beautiful view of the city with some mulled wine. Before leaving, hand your wish list to Santa by visiting his new home in Maastricht Christmas market.