Holiday Extras
It is often a big task to make sure that everything has been covered before you finally get to go on holiday and relax. The are lots of different things to think about such as changing your foreign currency or booking your hotel stay at the airport. To makes things easier for you we have created this holiday extras page, so everything that you need to think about is all in one place, no more searching from one place to another.

FairFX - FREE* Foreign Currency Card
The FairFX currency cards are prepaid MasterCard cards that work like debit cards.
There are currently 3 card options with FairFX. The 'Anywhere' card is a card loaded in sterling and can be used in any country at a market leading exchange rate. There are also euro and dollar cards which can be preloaded with customer's chosen currency, allowing them to 'lock-in' rates in advance. Get your FREE* FX Currency Card today.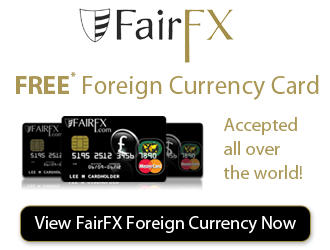 Holiday Extras
Holiday Extras is the UK market leader for travel add-ons with airport hotels, airport parking, airport lounges, airports by rail and coach, and holiday insurance as its core offerings.
Arrangements for 6.8 million travellers are made every year, with over 90% of these bookings coming from our website. Customer technology, fantastic products, unbeatable prices and hassle-free travel are the focus for Holiday Extras.
Click the banner on the right to start your search.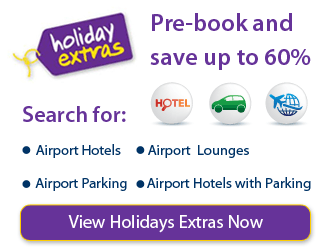 ICE - Foreign Currency Orders
ICE is one of the largest retail currency exchange operators in the World and has become one of the largest and most respected retail foreign currency exchange brands.
Rather impressively, they have opened more than 75 new branches in the last two years alone and their total estate now comprises over 300 branches and they operate at more than 65 airports across four continents.
Ice offer very competetive rates on foreign exchange. You can order online or over the telephone and have your currency delivered direct to your door. Click the banner on the right to view current exchanges rates and place your next order.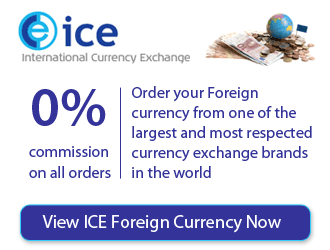 Amazon - Travel Book Store
Amazon Travel Book Store is the ideal place to find your travel book to take on holiday. There are hundreds of titles to choose from and you can either use the search facility or browse through all the categories listed.
Travel books are very much considered to be somewhere near the top of your list when it comes to packing for your holiday. Whether it is a travel novel or a guide book, they are a great companion when you need them.
Take a look now...