Grand UK Holidays
Grand UK holidays are exclusively for people like you, so you can relax and enjoy your well-earned break right from the start - content in the knowledge that everything has been taken good care of.
Save 5%* on Grand UK holidays when book with us!
About Grand UK Holidays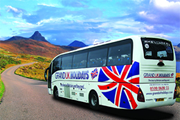 Welcome to the world of Grand UK - great value, great choice, great company. For almost a quarter of a century Grand UK have been looking after the needs of mature people on their holidays. More than 65,000 holidaymakers travel with them each year; by coach, air, rail and sea to destinations throughout Britain, Europe and beyond.
Affordable holidays for everyone
Whatever your budget, Grand UK has a holiday just for you! Trusting one of the largest and most respected leisure companies means that you always get more for your money.
Holidays for Singles
Grand UK also offers coach holidays for single travellers in the UK and Europe along with river cruises and rail trips. Solo traveller holidays are featured on our website as "Just for Singles".
A company you can trust
They remain a privately owned, specialist company that puts all its energy into just one thing - ensuring you get the best from your well-earned holiday. And because they are members of ABTA and licensed by the CAA, you can be sure that your holiday money is totally safe and secure - and that's a promise!
Tried, tested and respected!
They work tirelessly to perfect the art of making holidays extra special. Their team is the best in the business, and no-one knows more about finding the best hotels, planning the best itineraries, and securing the best service.
Free local departures
Most of their holidays include a free courtesy travel service at the beginning and end of your holiday - from hundreds of locations throughout southern and central England.
No luggage worries
Enjoy your coach holiday without having to worry about heavy suitcases. Simply arrive at your chosen local departure point, and the next you'll see of your luggage is in your hotel bedroom! It's all part of the service with Grand UK!
Friendly tour managers
Their tour manager escorts will help you make the very most of your holiday, and their team of coach drivers have years of experience behind the wheel. You simply couldn't be in better hands!
Terms and Conditions
*5% discount applies to holidays over £150 per person - Prices on the website include all discounts available