The No.1 Coach Holiday Site
We've carefully selected a large number of coach operators and brought them together all on one website - making booking a coach holiday EASY!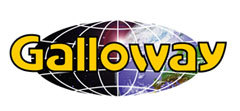 Galloway
Denters Hill, Mendlesham
Stowmarket, Suffolk
IP14 5RR
Galloway Travel Ltd was founded in 1965 to provide school group travel to Europe. Initially, coaches were hired in from operators throughout the country, until 1978 when Galloway Travel Ltd purchased the established coach business of A.F. Braybrooke & Son, based in Mendlesham, Suffolk.
The operation was renamed Galloway European Coachlines Ltd. with its operational base being primarily to provide for the coaching requirements of Galloway Travel Ltd.
With progressive expansion into extended tours, private hire and contracts, the fleet steadily expanded, outgrowing the original premises in the centre of Mendlesham village. New premises were developed at Denters Hill, on the outskirts of Mendlesham, to accomodate a fleet totalling some 60 vehicles when the business of Rex Service Station at Thorndon was purchased in 1990. Today the total operation is concentrated on this one site, with sales outlets under 'the coach travel centre' banner in the town centres of Ipswich and Felixstowe.
We at the Galloway Travel Group pride ourselves on our staff. We believe that they are some of the best in the industry. We put care dedication and attention into training our staff, so that they might help you with your enquiries, or make a booking to the best of their abilities and also to make the experiance as pleasurable as possible. This is reflected in our award for "Investment in People"