Ffestiniog Travel -
Unforgettable Rail Journeys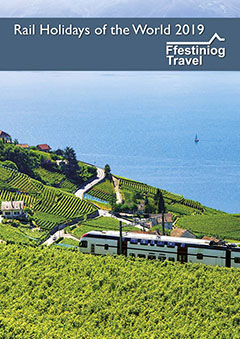 About Ffestiniog Travel
Rail journeys, rail tours, escorted rail holidays, exploring the world's historic railways or simply buying a single rail ticket – all reasons why Ffestiniog Travel can claim to be Britain's 'complete specialist' in railway travel around the world today.
Ffestiniog Travel has been arranging rail holidays around the world for over 45 years from its base in North Wales. Its journey began in 1974 when it ran its first ever escorted rail tour to Switzerland. Such was the demand that the company was forced to run two parallel trips when a remarkable 70 people signed up to explore the scenic splendour of the Swiss Alps by train.
Today Ffestiniog Travel produces a programme of up to 45 escorted rail tours each year to destinations in the UK, Europe and worldwide. Its Swiss tours continue to be a big hit alongside its annual rail holiday to India. Closer to home discover the UK's 'great British rail journeys' on tours that venture on the many 'Great Little Trains' of North Wales and Scotland's dramatic rail routes.
Their efforts are rewarded by the positive feedback they get from our clients and the knowledge that their profits help preserve the world's oldest narrow gauge railways – The Ffestiniog and the Welsh Highland Railways.
Lots of Rail Holidays to Choose from
Ffestiniog Travel's long-established team of expert rail travel consultants and tour leaders mean it is perfectly positioned to offer a mix of escorted and unescorted rail tours:
The Grand selection is aimed at the leisure train travellers, who want to experience a country's culture, scenery and people by rail.
The Connoisseur selection is targeted at the rail enthusiasts who appreciate a cultured holiday while indulging their passion for historic and unique railways around the world
Small & Traditional tours visit countries still untouched by tourism including Romania and Uzbekistan and discover remote areas, true nature, rich culture and wonderful history.
Easy Rail Holidays are a selection of short, one-centre, fully escorted and price friendly holidays to popular destinations in Europe.
For those who prefer more independent, unescorted travel as couples or with a group of friends and family, Ffestiniog Travel creates bespoke Tailor Made rail holidays to fulfil all requirements.


Contact our experienced travel agents to help you
0208 686 2378