The No.1 Coach Holiday Site
We've carefully selected a large number of coach operators and brought them together all on one website - making booking a coach holiday EASY!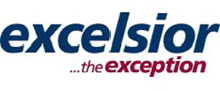 Excelsior Coaches
Excelsior Coaches Limited
Central Business Park
Bournemouth
BH1 3SJ

TOURING BY COACH
Not all coach operators are the same. With 85 years of experience Excelsior Coaches provides the most modern air-conditioned fleet in the region and is one of only 35 elite Coach Operators in the United Kingdom to be awarded by the Confederation of Passenger Transport prestigious Coach Marque.

Excelsior on being awarded the Coach Marque accolade, are proud to be acknowledged throughout the industry as the highest quality service provider in the region.
Excelsior
clients travel in a modern
Excelsior
coach with an
Excelsior
driver.
All coaches operated by
Excelsior
meet Coach Marque specification, which guarantees you the highest level of coach comfort and safety and the highest levels of commitment to client service.
All coaches are air-conditioned, have air suspension, reclining seats and on-board toilet. Generally we use our 43 seater coaches to operate tours, but on occasion we may use a coach with a different seating configuration. Tea, coffee and cold drinks are available on tours when operated by two drivers.


DRIVERS & COURIERS


We know that it is the driver/courier who really makes your holiday complete and with some of the most professional and experienced in the industry you can be sure of having a memorable holiday. For them it is a pleasure to give you the opportunity to enjoy the beautiful towns and villages that they have visited.



ACCOMMODATION


The accommodation we use is carefully selected to provide high standards and good value. All rooms have en-suite facilities and the tour price includes breakfast and dinner (unless stated differently in the tour description). On British holidays we do not charge supplements for single rooms.



CONTINENTAL HOLIDAYS


On Continental holidays we normally cross the channel from Dover to Calais, which takes approximately 90 minutes. We may on occasion have to use the Channel Tunnel from Folkestone to Calais. On holidays of 8 days duration or more (with the exception of Norway) we provide an additional Driver/Courier/ Host/Hostess to ensure your holiday is as relaxing and enjoyable as possible. We also take regular rest breaks and we recommend that passengers should alight from the coach during these breaks and walk around to reduce the likelihood of circulatory problems or Deep Vein Thrombosis.