Eastons Holidays -
Coach Holidays throughout Britain, Europe & beyond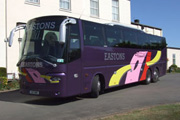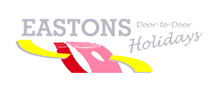 About Eastons Holidays
Over the years Eastons have developed an extensive UK holiday programme and a far-reaching choice of Continental holidays with departures to over 100 different destinations. To compliment these holidays they also offer a superb selection of escorted Flight and Cruise holidays.
All accommodation is specially selected for quality and service and includes bedrooms with private facilities. Eastons include an amazing variety of excursions and sightseeing trips on all our tours.
Door to door service
A taxi or minibus arranged by Eastons Holidays collects you from your own front door and delivers you, complete with luggage to their awaiting coach. What could be simpler? The service is available on all holidays of 5 days duration and over, within Eastons designated pick up areas. This can be extended for a small extra fee.
Touring coaches
Eastons have one of the finest fleets of coaches in East Anglia, all owned and operated by themselves. Their coach holiday tours include luxury coach travel with individually reserved seats. All vehicles are modern, air conditioned, comfortable and designed with touring in mind and their drivers are fully trained and qualified to ensure you have a relaxed and enjoyable holiday.
Pick up Points
Once you leave Norfolk it is direct to your destination – no meeting up with feeders or changing coaches en route.
Luggage Handling
All Eastons holidays of 5 days duration or more include luggage handling. This means that your luggage is collected from your front door, delivered from the coach to your hotel room on arrival and also collected on departure.
Financial Security
Eastons offer you peace of mind when booking with them – Eastons Coaches is fully bonded through the Confederation of Passenger Transport's Holiday booking scheme, this bond is guaranteed by Barclays Bank.
Free Parking Facilities
Customer parking is available for all passengers departing from our depot in Stratton Strawless on tours of three days and less. This is free of charge but they do not accept any liability or responsibility and parking is at customers / vehicles owners own risk.
Departure Points
I'm sorry we currently don't have any tours available for this operator.