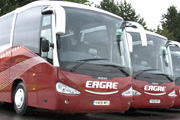 Eagre
Quality coach holidays
About Eagre
Affordable, quality coach holidays, throughout the UK, Ireland and Europe
Eagre is a household name in the Lincolnshire area, originally based in Gainsborough, now part of the Wilfreda Group, Eagre has become a well known brand for holidays within the United Kingdom that represent excellent value for money.
Eagre still has close ties with Lincolnshire their sales office is on Crooked Billet Street, Morton, Gainsborough where dedicated professional and friendly administrators can help you choose the right holiday for you. Whether it be a short 2 day break to visit some of our spectacular heritage, a journey back over time on a steam train or a speciality weekend, dancing or playing Bridge, there is something for everyone. Our longer 8 day breaks visit some of your favourite seaside resorts where you can enjoy a traditional summer vacation by luxury coach driven by our very professional driver/couriers who are friendly and caring. Excursions are often included for your pleasure.
Our 2013 brochure is packed full of relaxing holiday breakaways to make those special memories for you to treasure. We have introduced for 2013 an on board 'Welcome' pack on all tour coaches to ensure that the start of your holiday is as relaxing as possible.
There are many coach joining points throughout Lincolnshire, Nottinghamshire and South Yorkshire and we operate 'feeder' services to make it quick and easy to start your holiday.
The Eagre fleet consists of eight executive coaches, five of which were purchased in 2008. All our coaches are manufactured to the highest standards and include all the benefits you have come to expect from Eagre including: air-conditioning, DVD players, monitor screens, tea and coffee making facilities, refrigerator, reading lights, W.C. and much more. So you can see why we're one of the most comfortable and reliable coach operators in the United Kingdom.