Coach Holidays to Venice
The Floating City of Venice is located in the Po Delta in the Northern-Italian region of Veneto. The romantic lagoon invites its visitors to stroll about the small pavements along the bustling canals. As the birthplace of composer Antonio Vivaldi Venice, of course, has played an important role in both symphonic and operatic music. Moreover, during the middle ages Venice has been an important maritime power and an important centre of trade and commerce. Nowadays, it has emerged as a trendsetting city and is home to numerous high-end boutiques, as well as romantic cafes and imposing architectonic attractions.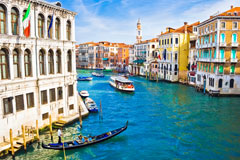 Venice Coach Tour Highlights
Rialto Bridge

The famous marble Rialto bridge is the oldest bridge crossing the Grand Canal of Venice.

Piazza di San Marco

The astonishing Square is one of Europe's few urban places where voices prevail over the sounds of traffic.

Campanile di San Marco

The bell tower located directly at the San Marco Square is one of the city's most recognisable landmarks.
San Marco Basilica
This church is the most famous example of Byzantine architecture in Europe. Also known as the "Church of Gold" it is a symbol of Venetian power and wealth.
Coach trips to Venice
Whenever you choose to book a coach trip to Venice you are bound to enjoy the canals and sights around this romantic city but if you cannot find a suitable coach trip to Venice contact us and our experienced advisers will help find your ideal break.
If coach holidays to the Venice are not for you we have a wide range of coach holidays and trips that take in other cities and regions in Italy that may be of interest.