Holidays to Venice
Enjoy the time in Venice and see all the famous sights with our guided tour to the floating city. We offer coach holidays and escorted tours to Italy with included and optional excursions to enjoy the best of Italy. We also offer discounts on some package tours to Italy, so have a look at our offers, give us a call and we will happily book it for you.
More about Venice
Discover the vibrant city of Venice with amazing architecture and fascinating history.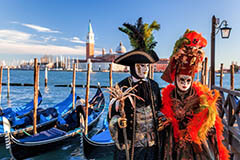 Things to do in Venice
Doge's Palace
Make sure you see the famous sight in Venice, the Doge's Palace. This majestic place is a true masterpiece of Gothic architecture.
Grand Canal
Amazing channel with lots of colorful buildings alongside. You can get a water taxi to travel along the Grand Canal.
Rialto Bridge
The famous marble Rialto Bridge is the oldest bridge crossing the Grand Canal just in the heart of Venice.
St. Mark's Square
This church is the most famous example of Byzantine architecture in Europe. Also known as the "Church of Gold" it is a symbol of Venetian power and wealth.
St. Mark's Basilica
The astonishing Square is one of Europe's few urban places where voices prevail over the sounds of traffic..
Carnival of Venice
It is a beautiful annual festival that held in Venice. This festival is very famous because of people wearing those spectacular costumes and mysterious masks. And visiting Venice during the carnival is a unique experience.
Venice Carnival 2019 dates:
16 February - 5 March 2019
Looking for specific tours to Europe?
If you cannot find a suitable tour to Italy contact us and let our experienced travel agents help you find your perfect holiday to any destinations abroad.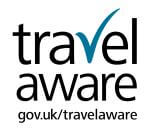 Remember, we are the UK's leading coach holiday website and have excellent value holidays to the UK, Europe and more with the widest choice and best prices.
We are working with the Foreign and Commonwealth Office (FCO) to help British nationals stay safe abroad. The FCO website (www.fco.gov.uk/travel) offers straightforward travel advice, top tips and up to date country information to help you plan your holiday. Stay safe overseas, know before you go.
Back to search for trips to Venice