Holidays to Valencia
Travel to Valencia and other great historical cities while staying in hand-picked hotels with our escorted tours of Spain. We offer low price package holidays to Valencia with award-winning tour operators. We also offer cheap coach holidays to Costa Brava and other coastline resorts in Spain.
More about Valencia
On the east coast of Spain lies the city of Valencia. It contains a dense monumental heritage, making it a World Heritage Site since 1996. Its long history and splendid Baroque and Romanesque architecture combined with a world renowned avant-garde complex of museums with futuristic design provide for a remarkably uniqueness. The small cobbled alleys offer wide arrays of walks and cosy, romantic cafes and restaurant along with the generic Spanish hospitality. Valencian cuisine is full of diverse flavours, and the delicious Spanish paella actually has its roots from Valencia.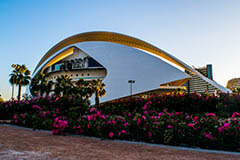 Things to do in Valencia
L'Oceanografic
L'Oceanografic is the largest aquarium in Europe. The aquarium situated inside very impressive and futuristic complex named The City of Arts and Sciences.
City of Arts and Science
This avant-garde complex is the most important tourist destination of Valencia. It consists of a number of modern museums, exhibitions and galleries, situated inside the unique and beautiful buildings.
Llotja de la Seda
The secular building, finished in 1548, illustrates the power and wealth of one of the great Mediterranean mercantile cities. The World Heritage Site was once used as a house of trade and commerce for goods from all over the world.
Bioparc Valencia
Unlike other zoos here you can really enjoy the feeling of the real wild environment within the beautiful city of Valencia. The unique design of landscapes and footways around the cages will make you believe to be part of the scenery.
Whenever you choose a coach holiday to Valencia you are sure to see many sights and attractions at this amazing city. If you cannot find a suitable holidays to Spain contact us and let our experienced travel agents help you find your perfect tour to Spain or any other destination in Europe.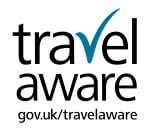 Remember, we are the UK's leading coach holiday website and have excellent value coach holidays to the UK, Europe and more with the widest choice and best prices.
We are working with the Foreign and Commonwealth Office (FCO) to help British nationals stay safe abroad. The FCO website (www.fco.gov.uk/travel) offers straightforward travel advice, top tips and up to date country information to help you plan your holiday. Stay safe overseas, know before you go.
Back to search for trips to Valencia