Coach Trips to Torquay
We have a fantastic selection of coach trips to Torquay from short breaks to longer tours and holidays. We offer last minute coach trips to Torquay whilst seats remain and have a good selection of 2019 Torquay coach trips this Summer. Use the search to find best value coach holidays to Torquay and Devon area, from local departure points across the UK with a variety of leading coach operators.
More about Torquay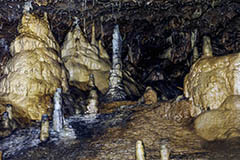 Torquay is one of the UK's top tourist destinations and has been popular with holidaymakers since Victorian times. Torquay's seafront is the town's focal point now, which includes the harbour, the marina, seafront gardens, the palm lined promenade and beautiful beaches. Torquay is a cosmopolitan and modern resort with attractions and activities to keep the whole family entertained.
Torquay's most famous daughter is the acclaimed author, Agatha Christie, but the town dates back a lot longer than that - all the way back to prehistoric times. Hand axes have been found in the Kents Cavern dating back 500,000 years. Torquay remained a small secluded place until Victorian times when the arrival of the Great Western Railway opened up Torquay to the general public and slowly the popular holiday resort we know today was born
Most popular places to visit in Torquay
Coach holidays to Torquay provides the opportunity to visit a wide range of attractions and places of interest.
Living Coasts - Torquay Harbourside
The Living Coasts attraction features a range of sea creatures from seals and penguins to ducks and puffins.

Kents Cavern, Prehistoric Caves
Incorporated within the English Riviera's Geopark and alone recognised as the most important stone age cave in Britain, Kents Cavern has revealed more about palaeolithic Britain than anywhere else.

Torquay Museum
Torquay Museum is open throughout the year and displays artefacts from the towns past. There is also a gallery dedicated to Agatha Christie who was once a Torquay resident.

Babbacombe Cliff Railway
Passengers ride the Babbacombe Cliff Railway to enjoy the delights of Oddicombe Beach and the access to coastal walks in both the Petitor and Babbacombe directions. The railway is open from Easter to September.

Our Glass - Craft Centre
Free admission to the glass blowing workshop to watch the work being done using traditional glass blowing methods. Open throughout the year.

English Riviera Sightseeing Tours
Enjoy the sights of the English Riviera with a guided sightseeing tour with full commentary from an experienced tour guide.

English Riviera GeoPark Trail
Visit the English Riviera Geopark and experience 400 million years of unique geology along 22 miles of coastline.

Babbacombe Model Village, Babbacombe Journey through 50 years of England in the miniature world of Babbacombe Model Village. There are also beautiful miniature gardens to appreciate.

Corbyn Head Beach
The most popular beach in Torquay is a great family day out, enjoy the sea, sand and sunshine.

Waves Leisure Pool
A fun attraction for the whole family, enjoy the indoor wave pool and slide down the flume?whatever the weather.
Popular attractions near Torquay
Coach trips to Torquay provides the opportunity to visit a number of tours, attractions and places of interest in the surrounding area.
Paignton Zoo - Paignton
Paignton Zoo is home to thousands of amazing animals and plants. Visit the desert, cross the savannah, explore the forest and trek through the tropics. Use your senses to discover the wild world: look around, listen out - you'll even need your sense of smell! It's a great day out for everyone.
Paignton Pier - Paignton
Set at the centre of one of Torbay's best beaches, within an easy level walk to the town centre, station and buses, the Pier has plenty of parking nearby, many attractions on the open deck and inside, plus magnificent views of Torbay.
Dartmouth Castle - Dartmouth
Guarding the entrance to the Dart Estuary is the fortress castle of Dartmouth. This picturesque castle has been guarding Dartmouth for over 600 years.
Cockington Country Park - Cockington Village
Enjoy the woodland, lake and gardens of the 450 acre park which also has a wide range of craft making demonstrations and craft shops.
Special Events in Torquay in 2019
If you are considering a coach tour or coach trip to Torquay in 2019 the following are a selection of well attended events taking place in Torquay throughout the year. So if you are interested in attending these events search for your coach holiday to Torquay around these dates.
Torbay Airshow 1ST - 2nd Jun 2019
Torbay Steam Fair 2nd - 4th Aug 2019
Whenever you choose a coach holiday to Torquay you are sure to see many sights and attractions in this amazing county. If you cannot find a suitable coach trips to Torquay contact us and let our experienced travel agents help you find your perfect coach holiday to any other destination in the UK.
Remember, we are the UK's leading coach holiday website and have excellent value coach tours to the UK, Europe and more with the widest choice and best prices.
Back to search for trips to Torquay