Coach Holidays and Tours to Switzerland
Join our impressive coach holidays to Switzerland. Alpine landscapes full of magnificent snow-capped mountains and breath-taking lakes, as well as unforgettable rail journey on-board the world-famous Glacier Express are waiting for you! Search now for Switzerland tour packages from the UK and give us a call, so we can book it for you for the best available price!
Rail Journeys through the Swiss Alps
Switzerland's scenery offers some of the most beautiful and memorable images in the whole of Europe. Discover the highlights of Switzerland with most scenic train rides across untouched mountain landscapes of the Alps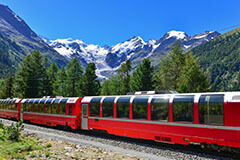 Glacier Express
Glacier Express is the most famous panoramic train that travels through the Swiss Alps, connecting Zermatt and St. Moritz resorts. It is not a fast train so you can truly enjoy all the views. And every journey on board the Glacier Express is guaranteed to be unforgettable!
Bernina Express
Enjoy sensational scenery at every turn from the panoramic windows of the Bernina Express, the highest railway in the Alps. This slow-speed train connects Chur to Poschiavo in Switzerland and Tirano in Italy. Most of the rout Bernina Express runs along the World Heritage Site across 196 bridges, through 55 tunnels and reaches 2,253 meters height at the Bernina Pass. This train journey is beyond imagination and definitely recommended during your Switzerland tours.
GoldenPass Panoramic Line
The GoldenPass Panoramic Line runs between Lucerne, Interlaken and Montreux through magnificent scenery with snow-capped hills, sparkling Lakes and charming chalet villages along the way.
Swiss Lakes and Cities
Wonderful Switzerland is not only land of cheese and chocolate, but also a land of emerald lakes, mountain grasslands and high Alpine peaks. If you wood lakes to visit Swiss lakes then the summer is the best time. We have some great tour packages for your summer holidays in Switzerland with a wide range of destinations. Including our popular holiday resort of Interlaken, situated between the lake Thun and Lake Breinz. And lovely lakeside resort of Lucerne, where you can join an optional cruise on the Lake Lucerne
Lake Lucerne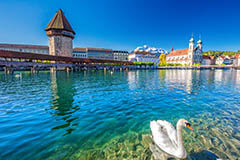 Lake Lucerne is a top destination for summer holidays in Switzerland with the stunning scenery of charming villages and spectacular mountain backdrop along the shores. This great region offers lots of activities for all ages. You can make scenic trips by train or cable car to the surrounding mountains, or join a boat trip on Lake Lucerne with the breath-taking panorama. And of course visit the colourful city of Lucerne, most famous for its solid wooden Chapel Bridge (Kapellbrücke) and the Lion Monument. The Kapellbrücke bridge is 204 m long and spans across the Reuss River. It was built in 1333 and is the oldest wooden covered bridge in Europe and a very important landmark in Lucerne. And the Lion Monument is sculpture by Bertel Thorvaldsen. It is a reminder to the Swiss Guards who were massacred in the French Revolution. The wonderful carving is said to be the most mournful and moving piece of stone.
Interlaken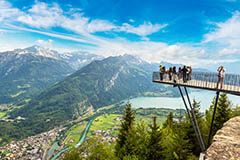 This magical place is located between the sparkling waters of Lake Thun and Lake Brienz, and surrounded by high mountains, including three famous snow-capped peaks of the Eiger, Monch and the Jungfrau. Interlaken is one of the most popular summer holiday resorts in Switzerland. Visit the centre town of Interlaken, stroll through the Japanese garden with fountains, little wooden structures and exotic plants. Or relax in Hohematte Park and admire amazing scenery of the Swiss Alps. Whether you are looking for various activities like boat trips and train rides, or just want to experience pure Switzerland with all its cultural aspects and traditions, holidays in Interlaken is a perfect choice.
Lake Geneva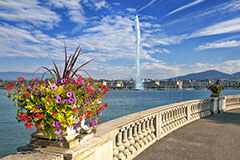 Between France and Switzerland lies the largest lake in the Alpine region with the beautiful city of Geneva on its shores. Holidays to Geneva offers winderful landscapes in the Alpine settings, with quaint wooden chalet villages and vineyard-slopes. And the marvellous Lake Geneva itself attract numerous visitors every year. Jet d'Eau is Geneva's most prominent landmark, the tallest fountain in the world set in the Lake. It pumps water 460 feet up in the air, and originally, it was supposed to release pressure for the hydropower generation on the Rhone River. Also during your holidays to Genava you can visit one of the most thought provoking museums in Europe, International Red Cross and Red Crescent Museum. The museum highlights the importance of human rights and historical conflicts in the 20th century in sculpture, installation, photography and film.
Looking for more scenic destinations in Europe?
If you cannot find a suitable Switzerland package tour contact us and let our experienced travel agents help you find your perfect lakes and mountains holidays in central Europe.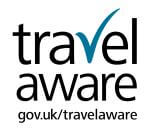 Remember, we are the UK's leading coach holiday website with the widest choice of excellent value coach holidays in the UK and abroad
We are working with the Foreign and Commonwealth Office (FCO) to help British nationals stay safe abroad. The FCO website (www.fco.gov.uk/travel) offers straightforward travel advice, top tips and up to date country information to help you plan your holiday. Stay safe overseas, know before you go.
Back to search for tours to Switzerland