Coach Holidays to Strasbourg
Near to the German border lies Strasbourg. The small city is the seat of several EU institutions, thus being a polyglot, cosmopolitan city. Furthermore, Strasbourg has established as one of the important manufacturing and engineering centres of Europe. The French atmosphere is present throughout the town offering romantic walks through small alleys and wonderful opening squares. Far off the busy capital this gem features unique architecture and beautiful landscapes in the near Rhine valley.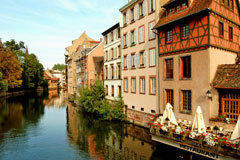 Strasbourg Coach Tour Highlights
Grand Ile

Named a World Heritage Site in 1988 due to its old centre that exemplifies medieval cities, the cosy centre is also home to several romantic churches.

Strasbourg Cathedral

At 142 metres it is one of the world's tallest churches. The Romanesque and Gothic design offers detail-steeped exterior and imposing interior architecture.

Musee des Arts decoratifs (Museum of decorative Arts)

The museum features magnificent chambers in Baroque and Rococo styles. In addition to this it provides a vast display of porcelain, gold- and silversmith arts.
Place Kleber
Situated in the heart of the city's commercial area, you can find this World Heritage Site. The cobbled stone square is framed by beautiful designed buildings dating back to the early 18th century.
Coach holidays to France
Whenever you choose a coach holiday / coach trip to Strasbourg you are sure to see many sights and attractions in and around the city to provide a memorable holiday. If you cannot find a suitable coach trip to the Strasbourg contact us and let our experienced operators help find your perfect break. If coach holidays to Strasbourg are not for you we have a wide range of coach holidays and trips that take in other areas of France that may be of interest.