Coach Holidays to Stockholm
Of the many places to visit in Sweden, Stockholm is one of the most popular. Attractions such as the Operan, the Stadshuset and the Gamla stan make a trip to Stockholm unforgettable. Stockholm is also close to another of the best places to visit in Sweden, which is Skeppsholmen Island, where you can see the most prominent feature of Sweden tourism; the Vasa Museum, which displays the remains of a wrecked ship from the 16th century.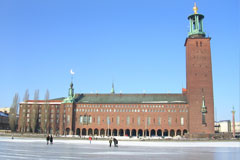 Stockholm Coach Tour Highlights
Drottningholm Palace

The palace is built on the island Loevon and is one of Sweden's Royal Palaces. Built in the late 16th century the palace was made a UNESCO World Heritage Site offering wonderful classic design and landscape architecture.

Skogskyrkogården

The Woodland Cemetery is located south of Stockholm. The design and art works reflect the development from romantic to functionalism in architecture.

Gamla Stan

The wonderful Old Town of Stockholm stems back to the 13th century and consist of wonderful medieval architecture, alleyways, cobbled stone and majestic architecture.
Skansen
The first open-air museum and zoo in Sweden was founded in 1891 to display Swedish life before the industrial era. The museum offers bears, bison, fox, wolf reindeer and many more living on a 300,000 sqm areal.