Coach Holidays to St Petersburg
Also known as 'the city of Tsars', St. Petersburg is one of the greatest historical places of Russia. The vibrant nature seems to be in perfect harmony here combined together with unique heritage buildings and monuments scattered at different places of the city. In fact, the pulsating life of the city is the melting of the ethnic Russian and vibrant European culture. Some of the major tourist spots in St. Petersburg include, the historic Peter & Paul Fortress, Hermitage also known as the 'Winter Palace' is accredited as the largest museum of world and castle of former Russian tsars.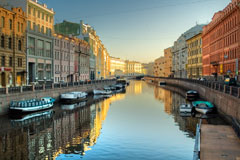 St Petersburg Coach Tour Highlights
Alexander Garden

The garden is located in the vary heart of the city. It provides wonderful sceneries, fountains and the remains of the city fortifications.

St. Isaac's Cathedral

The striking dome of this cathedral, which used to Russia's tallest, and the wonderful exterior design make St. Isaac's a desired in landscape in St. Petersburg.

Cathedral St. Sampson

One of St. Petersburg's oldest churches, this charming azure and white baroque cathedral with its striking belltower is also used as a museum with a fully restored and richly decorated interior containing several historic works of religious art.
Alexander Column
This column, a gift from France after the Napoleon War, this column is a wonderful piece of design and engineering. Named after Emperor Alexander I.
Coach trips to St Petersburg
There are many sights, attractions and things to do on a coach trip to St Petersburg so use the search form to find a trip that matches your requirements. If you cannot find a suitable coach holiday to St Petersburg on our website contact us and our experienced advisers will help find your ideal trip.
If coach holidays to St Petersburg are not for you we have a range of coach tours and trips that visit other cities and regions of Russia that may be of interest to you: