Coach Holidays to Split
The second-largest City of Croatia, Split, is located on the shores of the Mediterranean coast and is connected to several peninsulas of the Country. The city is supposed to be over 1,700 years old, dating back to ancient Greeks who have been the first settlers in the region. The rough landscapes of rocky surfaces and mountains combined with the sandy beaches offer a marvellous vista.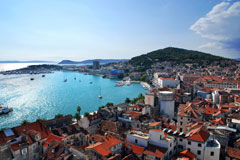 Split Coach Tour Highlights
Diocletian's Palace

Roman Emperor Diocletian decided to spend the last years of his live in Croatia where you had this marvellous palace built. The declared World Heritage Site is now the very heart of the city.

Archelogical Museum

Founded in 1820 it is the oldest museum in Croatia displaying many archaeological artefacts from prehistoric, Greek and Roman times.

Mestrovic Gallery

The Gallery displays the works and masterpieces of Ivan Mestrovic, one of the most important sculptors of the late 20th century.
Marjan Forest Park
The Park offers countless walking paths shaded by towering pine trees and huge meadows providing relaxation and repose far off the bustling city.
Coach holidays to Croatia
Whenever you choose a coach holiday / coach tour to Split you are sure to find plenty to see and do in and around the city and surrounding area. If you cannot find a suitable coach trip to Split contact us and let our experienced operators help find your perfect break. If coach holidays to Split are not suitable we have a wide range of coach tours and trips that take in other destinations in Croatia that may be of interest.