Coach Holidays to Sicily
Sicily is the largest island in the Mediterranean Sea. Once considered a crucial trade point in ancient times it is today one of the most beautiful islands, with marvellous, densely mountainous landscapes, including the fascinating Mount Edna, and unique, imposing architectonic designs. Owing to this, Sicily is home to a number of UNESCO World Heritage Site.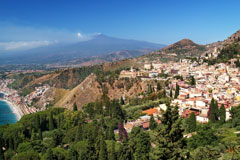 Sicily Coach Tour Highlights
Valley of the Temples

The Temple is the most outstanding example of Greek art and architecture outside Greece.

Villa Romana del Casale

This 4th century built Villa contains the richest, largest and most complex collection of Roman mosaics in the world.

Necropolis of Pantalica

The necropolis stems back to the 13th century BC and consists of over 5000 tombs.
Syracuse
The small city is famous for its rich Greek history, culture, architecture and as Archimedes' birthplace.
Val di Noto
The city is dominated by limestone buildings, which were built in the 17th century after a massive earthquake had dashed the whole city to dust.
Coach trips to Sicily
Whenever you choose to book a coach trip to Sicily you are sure to enjoy the sights and sounds around this popular holiday island. If you cannot find a suitable trip on our website contact us and our experienced advisers will help find your ideal coach holiday to Sicily.
If coach holidays to the Sicily are not for you we have a wide range of coach holidays and trips that visit other regions of Italy: