Holidays to Seville
Explore Seville with our escorted tours and cheap package holidays to Spain. Enjoy hand-picked hotels, more beautiful towns like Granada, Cardoba or Valencia, as well as a luxury travel with our award-winning tour operators. We also offer great value coach holidays to Costa Brava and other coastal areas in Spain.
More about Seville
Seville is said to be the cultural, financial and artistic capital of Southern Spain. The City is famous for its influential examples of Islamic and Moorish art and architecture. Owing to this fact, Seville's historic city centre is World Heritage Site. Although being Spain's fourth biggest city, Seville is a unique gem, offering vitality and Spanish hospitality.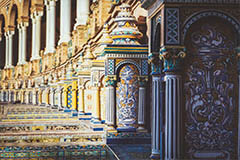 Things to do in Seville
Alcazar of Seville
The Alcazar is a royal palace associated with the fine arts of Spanish architecture.
Seville Cathedral
This religious building is the largest Gothic church in the world. This cathedral houses the grave of Christopher Columbus.
Plaza de Espana
Built in 1928, this historic landmark is an example of the Moorish Revival in Spanish architecture.
Museum of Fine Arts
The Museum contains mainly Spanish art-pieces from the medieval period through the 20th century.
Torre del Oro
The Gold Tower is a military watchtower built by the Berbers to control access to Seville.
Torre Giralda
The Giralda Tower is one of the unique architectures in Seville, you also can use a ramp to climb on the top for the lovely views over the city.
Whenever you choose a coach holiday to Seville you are sure to see many sights and attractions at this amazing city. If you cannot find a suitable holidays to Spain contact us and let our experienced travel agents help you find your perfect tour to Spain or any other destination in Europe.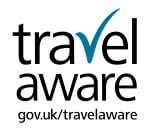 Remember, we are the UK's leading coach holiday website and have excellent value coach holidays to the UK, Europe and more with the widest choice and best prices.
We are working with the Foreign and Commonwealth Office (FCO) to help British nationals stay safe abroad. The FCO website (www.fco.gov.uk/travel) offers straightforward travel advice, top tips and up to date country information to help you plan your holiday. Stay safe overseas, know before you go.
Back to search for trips to Seville