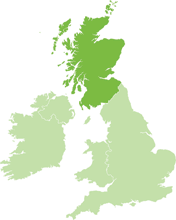 Coach Holidays to Scotland
Search for coach tours to Scotland and get the best deals and special offers on coach trips to the best destinations in Scotland. Learn everything about Scotland from its historic natural landmarks like Loch Ness and Neolithic Orkney to its unique blend of traditional and modern culture. You'll also find useful travel information such as a map of Scotland, accommodation booking and information on famous attractions and events such as the Edinburgh International Festival, Scotch Whisky tours and much more. Use the search form to find coach holidays to Scotland that match your personal requirements, alternatively give us a call and our experienced advisers will help plan your perfect coach trip to Scotland. If you are looking for inspiration check out our coach trips to Edinburgh - our most popular coach holiday destination in Scotland
Coach holidays and coach tours to Scotland can be quickly searched from selected departure points at the bottom of the page, scroll down to view. Alternatively use the search form to find our latest coach holidays to Scotland that match your requirements. A wide selection of 2017 coach trips to Scotland are available now so if you are planning for next year search for coach holidays to Scotland that suit you. We have a wide range of coach trips to Scotland from short breaks to specific destinations to coach tours to Scotland that visit the best towns and cities across the country.
Aberdeen Coach Holidays

Search for discounted Aberdeen coach holidays from departure points around the UK. Get the best deals on coach trips to Aberdeen and the surrounding area. Aberdeen is whatever you want it to be. Full-on city centre? No problem. You'd expect that. But what about the miles and miles of clean sand just minutes away from Union Street's bustle? The beach is perfect for getting away from it all, or chilling out with the rest of the city on a sunny day. There's also a huge amusement fair and leisure centre, for that 'Coney-Island-meets-the-the-North-Sea' feel. Further afield?
The Cairngorms are ridiculously close, and offer pretty much any outdoor activity you can imagine (climbing, canoeing or kayaking), and a few you can't (buggy riding, anyone?).All that clean air and fresh mountain water is perfect for something else - uisge beatha. Or 'whisky' as it's sometimes known. The North-East's whisky trail is legendary, and takes in famous distilleries such as Glenlivet, Dallas Dhu and Glenfiddich.
Equally famous is the area's castle trail: including the incredibly romantic Crathes Castle, the baronial beauty of Fyvie Castle and the baroque elegance of Duff House. We have a range of coach trips to Aberdeen from short breaks to lengthier tours that take in Aberdeen and other areas of Scotland. Whether you are looking for a last minute coach holiday to Aberdeen or are planning a trip this summer or in 2017 we are sure to have a coach holiday that suits your taste and budget so use the search form to find coach holidays to Scotland that are perfect for you.
Dundee Coach Holidays
Search for coach tours to Dundee and get the best deals and special offers on coach trips to Dundee and the surrounding area. Dundee is one of the UK's top cities for design and architecture. (The world-famous Maggie's Centre is the UK's only public commission by Frank O. Gehry, mastermind of the Guggenheim in Bilbao). It's no surprise really, given the Duncan of Jordanstone College is acknowledged as one of the UK's leading art and design schools, right up there with St Martins and Glasgow School of Art. Dundee Contemporary Arts (DCA) is where the cool people meet after hours.
It's also slap in the middle of Dundee's cultural quarter, where cool bars, galleries and creative businesses huddle together. But Dundee isn't all design and cocktails. It's got a rich maritime past, thanks to five centuries of trading. Whalers used to sail from Dundee, and it was these whalers who rescued Scott's ship, Discovery. Built in Dundee, the ship has returned home as part of an impressive exhibition. We offer coach trips to Dundee from short and weekend breaks to tours of Scotland that visit Dundee and other areas of the country. Whether you are looking for cheap last minute coach holidays to Dundee or are planning a trip to Scotland this summer or maybe in 2017 we are sure to have a coach holiday that suits your taste and budget so use the search form to find coach holidays to Dundee that suit you.
Edinburgh Coach Holidays

Find coach tours to Edinburgh and get the best deals on coach trips to Edinburgh from departure points across the UK. Think of an Edinburgh festival. Double it. Add four. You were thinking of the Edinburgh International Festival and Fringe, weren't you? But the ridiculous thing is that Edinburgh has got something going on pretty much every day of the year, not just three weeks in August. Books, science, art, you name it, there's an event for you.
All that culture can leave one in need of refreshment. Fret not; Edinburgh will look after you. And amazingly, you can eat while taking in the sights. The Forth Floor restaurant in Harvey Nichols offers views down to the Forth bridges. The Tower Restaurant at the Museum of Scotland has attracted epicureans and cognoscenti in equal measure, to food matched only by the views of the castle. And Oloroso's roof terrace is the place to be seen in the New Town. Want to retreat underground? Edinburgh's basement bars take you away from it all. Beluga, The Basement Bar and Rick's Bar will soothe your soul.
Glasgow Coach Holidays

These days, Glasgow promotes itself as 'Scotland with Style'. And it's got a point, you know. For the last two decades, the city has carved out a reputation for architecture and design, fuelled by a ridiculously well-dressed (and notoriously friendly) population. So you'd be right to expect incredible shops, earning Glasgow its reputation as the UK's favourite shopping city outside London.
Ralph Lauren, Armani and Boss are within minutes of each other. Need we go on? Then what about an array of desirable labels in the designer mall of Princes Square. Want to show off those togs and get friendly with the Glaswegians? Glasgow's club scene is one of the most vibrant in the UK, offering a mix of big names and local talent. The Tunnel and Sub Club still rule for cutting edge sounds but don't ignore venues like The Arches and Liquid Lounge. We have a number of great deals on coach holidays to Glasgow from departure points around the UK. Use the search form on the left to find the best coach trips to Glasgow.
Inverness Coach Holidays

Go north. Keep going. A little bit more! When you get to Inverness, the shock is that a city could exist nestled amongst the spectacular countryside. It's not known as the 'city in the Highlands' for nothing. From guided mountain climbs to walking, quad biking to husky racing, white water rafting to surfing (really), it's all here.
You can even watch dolphins from a chartered or scheduled boat in the Moray Firth. So pack the binoculars. Of course, you might just want to do some walking at your own pace and maybe 'bag yourself a Munro' in Ben Wyvis. The city takes its name from the River Ness, which flows from the world famous loch. Hire a motor-cruiser and see the area in a whole new light, including the dramatic ruins of Urquhart Castle. Or simply hop on a guided cruise and let the views roll by. We have a number of great coach tours to Inverness and the highlands. Use the search form on the left to find the cheapest coach trips to Inverness and make massive savings on your coach holiday this year. We offer a range of coach holidays and trips to Inverness from short breaks to lengthier stays as well as coach tours that take in a wide range of destinations.
Stirling Coach Holidays

Forget about Australians with blue and white face paint. The real story of William Wallace is far more gripping than any Hollywood melodrama. And much of the action took place right here in Stirling, some 700 years ago. The most obvious landmark is the Wallace monument, its imposing Gothic form standing at 220 feet, deep in the heart of a forest. It commemorates the life of Scotland's most famous warrior, who masterminded the defeat of King Edward's army at Stirling Bridge. However, just a year later Wallace's army was defeated and he suffered a gruesome public execution in London.
In fact, the monument is slap in the middle of the Stirling countryside, which itself is part of Scotland's first National Park. The Ochils are required treading for walkers and mountain bikers, as is the expansive Queen Elizabeth Forest park. More adventurous? White water rafting at will propel you down the rapids at Dunkeld and there's a huge choice of climbs for mountaineering nuts.
Dunoon Coach Holidays

Dunoon lies on the west shore of the Firth of Clyde where it turns south towards Bute and Arran after flowing through the Glasgow conurbation. It is located on the east side of the mountainous Cowal Peninsula and is more easily accessible by sea than by land. This gives it a very attractive "island" feel.
Dunoon is the largest town in Argyll and is built around two bays, East Bay and West Bay (aligned, confusingly, north and south of the centre of the town). Between them is a hilly nose of land sticking out into the estuary. This was the site of Dunoon Castle, once a major stronghold and originally built some time around 1050. It had been abandoned by 1650 and today nothing remains beyond a few grassy lumps on top of the hill that provides such an excellent viewpoint over the town and the Firth of Clyde. Below the top of the hill and overlooking the Clyde is a statue erected in 1896 of "Highland Mary": Mary Campbell, who was romantically linked to Robert Burns.
UK & Ireland destinations
Whenever you choose a coach holiday or coach tour to Scotland you are sure to find plenty to see and do. If you cannot find a suitable coach holidays to Scotland contact us us and let our experienced coach holiday operators help you find your perfect coach holiday to Uk and Ireland.
Remember, we are the UK's leading coach holiday website and have excellent value coach holidays to the UK and Ireland with the widest choice and best prices.