Holidays to Salzburg
Book coach holidays to Salzburg, one of the most attractive and historic cities in Europe. Salzburg is famous in the world of music as the birthplace of Wolfgang Amadeus Mozart and the setting for "The Sound of Music". With its musical heritage, delightful old town, beautiful Baroque churches and largest medieval fortress Salzburg is a symphony, and visiting it is an unforgettable experience.
Most popular places to visit in Salzburg
The whole of Salzburg's Old Town was nominated a World Heritage Site in 1997. The picturesque Austrian gem offers beautiful century-spanning architecture, spectacular view points and history. And today Salzburg exclusive architecture provides a dramatic backdrop for classical performances all year of around. The surrounding areas are in no way less impressive: beautiful forests, heavenly alpine mountains and a glorious region of Austrian Lake District. A coach trip to Salzburg is a fantastic way to experience its many attractions. Below are some highlights of what you may encounter on a coach holiday to Salzburg.
Altstadt Salzburgr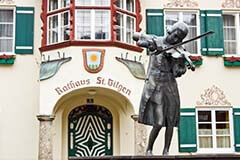 Altstadt Salzburg is the stunning Old Town of Salzburg and a UNESCO World Cultural Heritage Site situated on the banks of the Salzach river. Cobbled streets with colourful old buildings, historical churches, squares and Mozart is everywhere – this is the heart of Salzburg.
Mirabell Palace and Gardens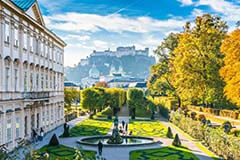 The Palace is one of Salzburg's most visited. The baroque style building and the surroundings are famous for its symmetrical gardens and the many Greek statues to be found there. Also you may recognize some spots from "Sound of Music" film.
Salzburg Cathedral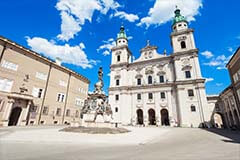 This is a beautiful brogue cathedral in the centre of the historic district of Salzburg was built in the 17th century and affords beautiful stained glass and architecture. The baptism of Mozart took place in this cathedral.
Looking for cultural and historical tours to Europe?
If you cannot find a suitable tour to Austria contact us and let our experienced travel agents help you find cultural and historical holidays in Europe.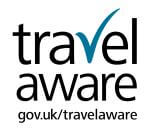 Remember, we are the UK's leading coach holiday website with the widest choice of excellent value coach holidays in the UK and abroad
We are working with the Foreign and Commonwealth Office (FCO) to help British nationals stay safe abroad. The FCO website (www.fco.gov.uk/travel) offers straightforward travel advice, top tips and up to date country information to help you plan your holiday. Stay safe overseas, know before you go.
Back to search for tours to Salzburg