Coach Holidays to Rhodes
The City of Rhodes lies on the Greek island in the south-eastern Aegean, close to the coast of Turkey. The city of Rhodes is one of the biggest municipalities of all the Greek islands with a population of 60,000.
It is the cultural and financial centre of the area and mixes a rich historical past with a lively present. The medieval aspects, fortified behind impressive walls, merge perfectly with the cosmopolitan air of a modern resort with hotels, broad streets, elegant stores and most developed tourist infrastructures in Greece.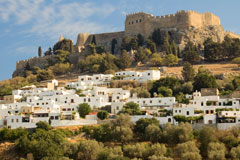 Rhodes Coach Tour Highlights
Rhodes Old Town

The Old Town is one of the best-preserved medieval cities in Europe, thus considered a World Heritage Site. It contains several museums and monuments.

Palace of the Grand Master of the Knights of Rhodes

This museum displays a magnitude of artifacts of ancient Rhodes, spreading almost every century.

Rhodes Archaeological Museum

The museum displays archaeological finds and a walk along the ancient city walls which will give you an idea of how enormous and diverse in architecture this city is.
Valley of the Butterflies
Buterflies and coloured moths from all over the island gather here for their procreation. The valley is a nature reserve and offers stunning natural beauty.