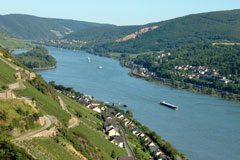 Coach Holidays to The Rhine Valley
The dreamlike valley surrounding the Rhine River banks affords fair and beautiful sceneries. Still today, the longest and widest river of Germany is a vital and navigable way used for transporting both tourists and commodities. It runs past marvellous, well-preserved castles and landmarks, which testifies the importance of the long and crucial role of this waterway. One of the most beautiful sights is the Loreley, a statue carved into a 125m high slate-rock. This beautiful landscape of vast forests, a magnitude plants and rough rocks coupled with the beauty of the Rhine waters provide an incredible romantic experience.
Coach trips to the Rhine Valley
Whenever you choose to take a coach trip to the Rhine Valley you are sure to enjoy the sights and scenery in this region to provide a memorable holiday experience in Germany. If you cannot find a suitable coach holiday to the Rhine Valley contact us and our experienced advisers will help find your perfect tour or trip. If coach holidays to the Rhine Valley are not for you we have a wide range of coach holidays and trips that take in other regions of Germany that may be of interest.