Coach Holidays and River Cruises to the Rhine Valley.
Enjoy beautiful holidays in the stunning Rhine Valley, see wonderful fairy-tale castles and vineyards. Visit historic local towns such as Boppard, Rudesheim, Koblenz and Cochem. And spend some time in the picturesque Black Forest or even join a Rhine river cruise. See all our escorted tours of the Rhine Valley, and select that suits you most.
More about the Rhine Valley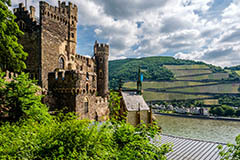 The dreamlike valley surrounding the Rhine River banks affords fair and beautiful sceneries. Still today, the longest and widest river of Germany is a vital and navigable way used for transporting both tourists and commodities. It runs past marvellous, well-preserved castles and landmarks, which testifies the importance of the long and crucial role of this waterway. One of the most beautiful sights on the bank is the Lorelei, the large 132m high slate rock filled with history and legends. This beautiful landscape of vast forests, a magnitude plants and rough rocks coupled with the beauty of the Rhine waters provide an incredible romantic experience.
Rhine Cruises
Cruise is a perfect way to view the splendour of the Rhine. Some tours may include optional excursions on a river cruise along the remarkable Rhine. Alternatively we have a great choice of separate Rhine River Cruises starting from 4 days and longer. Great programs and even more breath-taking views await you on these cruises passing through France, Germany and Switzerland.
Cruising Christmas Markets of the Rhine Valley
Did you know that you can enjoy all these historic and romantic sceneries of Rhine Valley while visiting some of Germany's most picturesque Christmas Markets? We offer a great collection of festive river cruises along the majestic River Rhine. As we disembark our coach excursions will take you to Rudesheim, Cologne, Koblenz and other wonderful towns along the way, so you can visit truly magical Christmas markets.
Whenever you choose a coach holiday to the Rhine Valley you are sure to see many sights and attractions at this amazing area. If you cannot find a suitable tour to the Rhine Valley region contact us and let our experienced travel agents help you find your perfect tour to Germany or any other destination in Europe.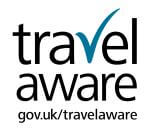 Remember, we are the UK's leading coach holiday website and have excellent value coach holidays to the UK, Europe and more with the widest choice and best prices.
We are working with the Foreign and Commonwealth Office (FCO) to help British nationals stay safe abroad. The FCO website (www.fco.gov.uk/travel) offers straightforward travel advice, top tips and up to date country information to help you plan your holiday. Stay safe overseas, know before you go.