Coach Holidays to Rab
The beautiful island of Rab is a gem located just a few miles off-shore of Croatia. As part of both the Roman and Byzantine Empire, the island has been a crucial trading post in the Mediterranean area and still is until today. Owing to its tradition-steeped background the marvellous island has hugely striven in cultural developments.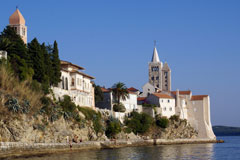 Rab Coach Tour Highlights
Zidine Fortress

What is referred here as a Fortress is the well-preserved remains of roman walls built by the Emperor Octavian Augustus.

Lapidarij

The splendid building houses the interesting Natural History Museum of Rab.

Cathedral of St. Mary The Great

The Cathedral was built in the early 12th century. The Romanesque building is said to be consecrated by Pope Alexander III.

Varos

The bustling coastal village of Varos offers a beautiful cityscape with marvelous architecture and Mediterranean flair.
Rab Travel Guide
Coach holidays to Croatia
Whenever you choose a coach holiday to Rab you are sure to find plenty to see and do in and around the island. If you cannot find a suitable coach trip to Rab contact us and let our experienced operators help find your perfect holiday. If coach holidays to Rab are not suitable we have a wide range of coach holidays and trips that take in other destinations in Croatia that may be of interest.