Coach Trips to Prague
Travel to Prague, the capital of the Czech Republic and enjoy many historical buildings and magnificent landmarks around every corner. Historical and cultural Prague is a lovely place to explore on foot especially with a guide to reveal many interesting stories that were shaping the history of this magnificent city for many years. Coach trips to Prague during November and December will also allow you to visit the beautiful Christmas market in the centre of the town. We offer escorted tours to Czech Republic and other destinations in Eastern Europe by coach and air, as well as affordable prices and great savings when you book with us.
Top Highlights in Historical Prague
Charles Bridge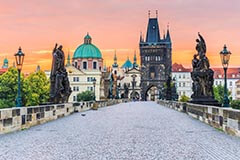 The Charles Bridge known locally as "Karluv Most". The picturesque bridge crossing the Vltava River connecting the East and West part of Prague. For many years it served as a source of inspiration for countless artists. Built in 1357 the bridge had been an important trade route between Eastern and Western Europe. Now this iconic bridge with stunning architecture is one of the most popular tourist attractions in Prague and always filled with different types of artists. For the best pictures it is better to visit the bridge early in the morning.
Prague Astronomical Clock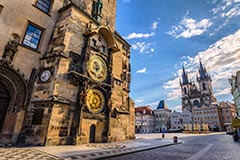 The medieval astronomical clock is located in the heart of Prague at the Old Town square, to this day serving as a clock and calendar. Every hour you can see 15 seconds show of figures that moves out of the clock window. If you know the history behind this Astronomical Clock then everything is even more interesting.
Prague Castle
The Prague Castle is the largest castle in Europe. Once Emperors, Kings and presidents used to have their offices in here, nowadays, it houses the Czech Crown Jewels. Magnificent historical building of the Castile with impressive sceneries around is always on the top of the list of any guided tour of Prague.
If you are interested in heritage and culture of Eastern and Central Europe then you will definitely enjoy coach touring holidays through Austria, Czech Republic, Poland and Hungary. Our escorted holidays to the heart of Europe will allow you to visit the most beautiful cities, including Vienna, Prague, Krakow and Budapest.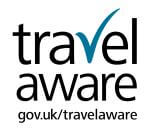 Remember, we are the UK's leading coach holiday website and have excellent value coach holidays to the UK, Europe and more with the widest choice and best prices.
We are working with the Foreign and Commonwealth Office (FCO) to help British nationals stay safe abroad. The FCO website (www.fco.gov.uk/travel) offers straightforward travel advice, top tips and up to date country information to help you plan your holiday. Stay safe overseas, know before you go.
Back to search for trips to Prague