Coach Holidays to Prague
Prague is the Capital of the Czech Republic. Situated on the Vltava River it has been an important political, economical and cultural joint in Eastern Europe since its first settlements. The "Golden City" has always been associated with the arts thus artists from all over the world are magically attracted by this town. The historic Prague was made a World Heritage Site in 1992 and ever since it has been the most popular tourist destination in Europe.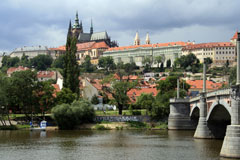 Prague Coach Tour Highlights
The Dancing House

The futuristic Dancing House was built in 1992 and is now home to different restaurants and an eye candy to look at.

The Charles Bridge

The picturesque bridge crossing the Vltava served as a source of inspiration for countless artists. Built in 1357 the bridge had been an important trade route between Eastern and Western Europe.

Prague Castle

The Prague Castle is the largest castle in the world. Once Emperors, Kings and presidents used to have their offices in here, nowadays, it houses the Czech Crown Jewels.
Prague Astronomical Clock
The medieval astronomical clock is located in the heart of Prague at the Old Town square, to this day serving as clock and calendar.
Old Town
This is the place where the original settlement of Prague started in 1100AD. The Old Town includes notable places like the Old Town square, the Old New Synagogue and the Astronomical Clock.
Coach holidays to the Czech Republic
Whenever you choose a coach holiday / coach trip to Prague you are sure to find many sights and attractions to provide a memorable time away. If you cannot find a suitable coach trip to the Prague contact us and let our experienced operators help find your perfect holiday. If coach holidays to Prague are not suitable we have a wide range of coach holidays and trips that take in other areas of the Czech Republic that may be of interest.