Coach Holidays to Munich
The Cosmopolitain city with a heart! Munich is located in the south of Germany just a few hours away from the Alps or the famous Neuschwanstein Castle. The city is not only home to the BMW headquarters but also home to innumerous museums and galleries and huge parks. If you want to experience German cosiness and metropolitan flair, Munich is the place to be.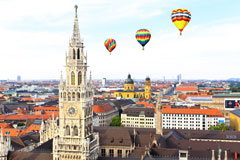 Munich Coach Tour Highlights
Hofbrauhaus

The original Hofbrauhaus offers authentic Bavarian hospitality, food and beer.

Mariensquare

This square stems back to the 12th century. It is surrounded by the Old City Hall and the Marien Column.

Olympia Park

Built for the Summer Olympics of 1972, the area is still in use today as a cultural and social venue.
Alte Pinakothek
The Old Pinakothek is one of the world's oldest galleries housing the most famous collection of old master paintings.
Englischer Garten
Bigger than New York's Central Park this huge urban public park offers the perfect relaxtion within the city of Munich.
Frauenkirche
The Cathedral of Our Dear Lady is a famous landmark in the Bavarian Capital.
Deutsches Museum
With over 1.5 million visitors a year this museum is the world's largest in science and technology.
Coach trips to Munich
Whenever you choose a coach trip to Munich you are sure to enjoy the sights and attractions in and around the city to provide a great holiday experience. If you cannot find a suitable coach holiday to Munich contact us and our experienced operators will help find your perfect break. If coach holidays to Munich are not for you we have a wide range of coach holidays and trips that take in other cities and regions of Germany that may be of interest.