Coach Holidays to Moscow
One of the popular places of visit in Russia is the capital city of Moscow. Also regarded as one of the most happening cities of the world, it has more to offer in terms of historical forts and great architectural edifices. The city is well connected and has round the clock regional and international transport services. If you're a shop alcoholic, then you have come to the right place for it offers you a wide range of elegant dress materials, extravagant accessories sold under various Russian designer labels. The varied shopping malls of the city also offer you a glimpse of multi cuisine from traditional Russian dishes to Caucasian and not to miss the authentic Mediterranean gastronomical delights with a bottle of Vodka.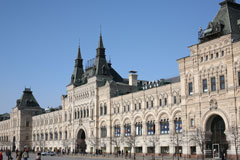 Moscow Coach Tour Highlights
Saint Basil's Cathedral

The colorful building and most famous landmark of Moscow is a Russian Orthodox church, called Trinity Church. The complexity and unexpectedness are matchless in the whole of Russia. The interior features wonderful murals.

Moscow Kremlin and Red Square

The historic fortified complex overlooking the Moskva River, located at the Red Square is the official residence of the Russian President. It was made a World Heritage Site in 1990.
Cathedral of Christ the Saviour
The tallest Orthodox church in the world provides artistic, golden domes and a marvellous nave with incredible paintings, sculptures and art pieces.
Kotelnicheskaya Embankment Building
This superior and massive building at the Moskva River Embankment was completed in 1952. It is one of the seven Stalinist skyscrapers.
Coach trips to Moscow
There are many sights, attractions and things to do on a coach trip to Moscow so use the search form to find a trip that matches your requirements. If you cannot find a suitable coach holiday to Moscow on our website contact us and our experienced advisers will help find your ideal break.
If coach holidays to Moscow are not for you we have a range of coach tours and trips that visit other cities and regions of Russia that may be of interest to you: