Coach Holidays to Madrid
Visit Madrid with our escorted tours of Spain as well as other great historical cities while staying in hand-picked hotels with our award-winning tour operators. We also offer cheap coach holidays to Costa Brava and other coastline resorts in Spain.
More about Madrid
The capital in the heart of Spain is one of the most popular destinations and offers a vast variety of cultural attractions. Owing to its high economic standard and output Madrid is said to be the financial centre of Southern Europe. Its long history, tradition-rich design and cultural heritage have made Madrid an influential city in sectors of arts and music. The bustling, lively streets offer a widespread nightlife in many bars, restaurants and theatres in the city.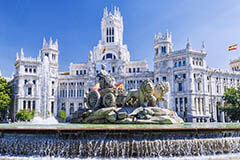 Things to do in Madrid
Retiro Park
Beautiful and peaceful park right in the centre of Madrid. You will be impressed by the size of this great park, with numerous monuments, fountains, botanic gardens and a small boating lake right in the middle.
Museo Nacional Del Prado
The Prado Museum is located in the heart of the city, this museum displays one of the world's finest collects of European art from the 12th century through the early 20th century, including Picasso's famous Guernica.
Royal Palace of Madrid
The richly decorated palace is the residence of the Royal Family. The pretentious building is framed by large areas of parks and water gardens.
Plaza Mayor
Built during the Habsburg period this beautiful, detail-rich square has over all these years been the venue for bullfights, markets and soccer games. The great atmosphere of this beautiful historical place with plenty bars and street artists always attracts a lot of tourists.
National Archaeological Museum
Sharing the neoclassical building with the National library, this museum is not to be missed. Well laid across several floors with stunning lighting and displays this is truly one of the top archaeological museums that houses artifacts from prehistoric Spanish times to the 19th century.
Temple of Debod
This well-preserved Temple was built in 200 BC in Egypt, who donated the Temple to Spain in 1968.
Whenever you choose a coach holiday to Madrid you are sure to see many sights and attractions at this amazing city. If you cannot find a suitable holidays to Spain contact us and let our experienced travel agents help you find your perfect tour to Spain or any other destination in Europe.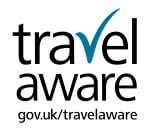 Remember, we are the UK's leading coach holiday website and have excellent value coach holidays to the UK, Europe and more with the widest choice and best prices.
We are working with the Foreign and Commonwealth Office (FCO) to help British nationals stay safe abroad. The FCO website (www.fco.gov.uk/travel) offers straightforward travel advice, top tips and up to date country information to help you plan your holiday. Stay safe overseas, know before you go.
Back to search for trips to Madrid