Coach Holidays to Madrid
The capital in the heart of Spain is one of the most popular destinations and offers a vast variety of cultural attractions. Owing to its high economic standard and output Madrid is said to be the financial centre of Southern Europe. Its long history, tradition-rich design and cultural heritage have made Madrid an influential city in sectors of arts and music. The bustling, lively streets offer a widespread nightlife in many bars, restaurants and theatres in the city.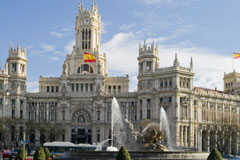 Madrid Coach Tour Highlights
Royal Palace of Madrid

The richly decorated palace is the residence of the Royal Family. The pretentious building is framed by large areas of parks and water gardens.

Temple of Debod

This well-preserved Temple was built in 200 BC in Egypt, who donated the Temple to Spain in 1968.

Museo del Prado

Located in the heart of the city, this museum displays one of the world's finest collects of European art from the 12th century through the early 20th century, including Picasso's famous Guernica.
National Archaeological Museum
Sharing the neoclassical building with the National library, this museum houses Pre-historic, Celtic, Roman and medieval antiquities.
Plaza Mayor
Built during the Habsburg period this beautiful, detail-rich square has over all these years been the venue for bullfights, markets and soccer games.
If you found this interesting, try visiting Coach Tours to Barcelona.
Coach trips to Madrid
There are many sights, attractions and things to do on a coach trip to Madrid so use the search form to find a trip that matches your requirements. If you cannot find a suitable coach holiday to Madrid on our website contact us and our experienced advisers will help find your ideal break.
If coach holidays to Madrid are not for you we have a range of coach tours and trips that visit other cities and regions of Spain that may be of interest to you: