Coach Holidays to Lisbon
Lisbon is a city of neighborhoods and each one has something to offer the tourist. Although a great town for walking, Lisbon is very hilly and we recommend taking the electrified streetcars when possible. Be sure to visit Castelo de São Jorge, Biaxa, Alfama, and the banks of the River Taugus. Spend an afternoon in Belem visiting the Age of Navigators Monument, Torre de Belem, and the Mosteiro dos Jeronomos - a tour of the cloisters is worthwhile. Coach holidays to the Lisbon offer a superb variety of excursions and the white sandy beaches along the coast provide the opportunity to relax and soak up the sun.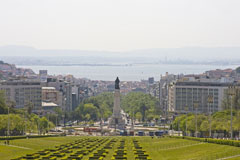 Lisbon Coach Tour Highlights
Alfama

This is the oldest part of Lisbon spreading from the castle down to the Trejo river. The slope is home to several famous landmarks and monuments. It is characterised by small alleys, cosy atmosphere, and dreamlike architecture.

Belem Tower

The Tower of Vincet is located on the shore of Lisbon. The fortified tower is a World Heritage Site due to its important role in Portuguese maritime discoveries.
Jeronimos Monastery
Another World Heritage Site located in Belem, the city centre. The marvellous monastery and its unique architecture is considered the most prominent example of Portuguese late-gothic style.
Praco do Comercio
The enormous square was once home of the Royal Palace until it was destroyed in an earthquake in 1755. It was completely remodelled and offers magnificent architecture and statues.
Coach trips to Lisbon
There is much to see and do on a coach trip to Lisbon so use the search form to find a trip that matches your requirements. If you cannot find a suitable coach holiday to Lisbon on our website contact us and our experienced advisers will help find your ideal break.
If coach holidays to Lisbon are not for you we have a range of coach tours and trips that visit other cities and regions of Portugal that may be of interest to you: