Coach Holidays to Lake Garda
Coach trips to Lake Garda are available throughout the year from local departure points across the UK with a variety of coach operators. Lake Garda is a beautiful destination for a coach holiday to Italy and is a perfect starting point if you would like to go on a day trip to Verona, Venice, Milan or explore Dolomits.
About Lake Garda
Lake Garda is the largest and most visited lake in Italy, especialiy in August and September. At the foothills of the Dolomites, Lake Garda's location offers a range of activities suitable for all visitors, families, couples and friends. At 51km long, 17km wide and with a circumference of 158km, there is plenty things to do in the numerous lakeside towns around the sandy shoreline.
Places of interest near Lake Garda
If you are interested in a coach trip to Lake Garda you will find numerous towns and villages along the shoreline to visit. There are 28 towns dotted around Lake Garda, easily accessible by bus or ferry and depending on the distance also by bicycle. Each town has its own character waiting to be explored, with various views of the lake. The most popular areas around Lake Garda are:
Desenzano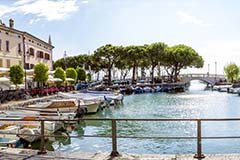 To the south west of the lake Garda is Desenzano, with a population of 27,788 people it is considered as the 'capital' of the lake. During the Middle Ages Desenzano was an important trading point in northern Italy and remnants from the past are all around to see. The G. Rambotti Museum holds artefacts found in the areas of Desenzano, Lonato and Lavagnone such as ceramics, flint arrowheads, weapons and utensils and some from as early as 2000 BC.
Discovered in 1921, was the remains of an ancient Roman villa which lay over a hectare of land. It is regarded as one of the most important grand villas in northern Italy from the late Roman era. It is suggested that its construction began in 1st century AD and was completed in 4th century AD. It contained sculptures, necklaces, utensils etc of everyday life from that era and even a magnificent mosaic floor also reflecting this, with images of hunting, fishing and farming. The villa is open for visitors to view and is well worth a visit whilst on a coach holiday.
The cathedral in Desenzano is dedicated to Santa Maria Maddalena and it contains various works by Andrea Celesti, Gian Battista Tiepolo, Zenon Veronese and many more. The Tomb of Atilia Urbica is situated within Santa Maria de Senioribus Church. It was made for Atilia Urbicus by her sons in the 3rd century AD. The tomb has a Latin inscription with two women, one playing the lute and the other removing a cloth from a basket.
Riva del Garda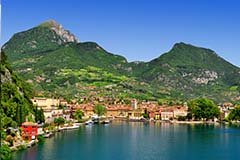 Riva del Garda is the second largest town with 15,838 inhabitants to the north of the lake. It is one of the best places for windsurfing and sailing in Lake Garda. As you walk around the town, you will see surviving structures of the Middle Ages such as the city walls, portals, towers and moats. The Fort in Riva del Garda was built during the 12th century and later enlarged by the Della Scala Family, the Venetians and the Bishop Princes of Trento and was even renovated by the Austrians. It is now home to the Civic Museum archaeological, geological and mineralogical exhibits, as well as an art gallery, collection of weapons, prints and rare books. You will also find many churches from various time periods to admire
Malcesine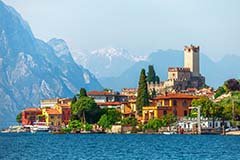 Malcesine is a small town on the north-eastern shore and is one of the most popular resorts on the Lake Garda. Its medieval setting, narrow lanes, small harbour and pretty walkway along the lake, make it inviting for a walk around the town.
Scaliger Castle has had a turbulent history of ownership; destroyed, rebuilt, renovated by numerous owners. It now houses a small museum dedicated to Lake Garda; especially to its geology, flora and fauna. It also has a room dedicated to the poet Johann Wolfgang Goethe displaying his drawings of Lake Garda.
The slopes of Monte Baldo offer a superb view of the lake. Ascending the mountain is a cable-car service, which takes you to an ideal point to start a hike or mountain bike tour. During the winter Monte Baldo is home to skiers all over the world.
Bardolino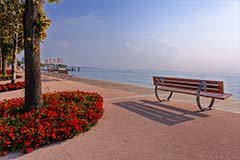 Bardolino is popular amongst coach holiday visitors, internationally famous for its production of Bardolino wine, is situated in the middle of the 'Riviera degli Olivi'; landscapes filled with vineyards and olive groves. A visit to the local wine-cellars presents plenty opportunities to sample the local wine.
There are various churches to visit, such as San Zeno, San Colombano and Santa Maria; some date back to as early as the 8th century.
In addition there is an Oil Museum, which displays the production of oil at Lake Garda with a reconstructed 19th century water-powered oil presser.
After sunset Bardolino bars and cafes become social hubs, especially as many shops are open until midnight making it ideal for an evening shop, stroll and dinner.
Sirmione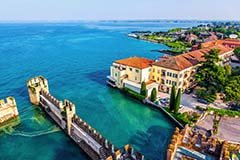 Sirmione is a town situated to the south of Lake Garda. Surrounded on three sides by the lake it is one of the most breathtaking places to view the sunset. On entrance you are greeted by a dominating castle - Rocca Scaligera. It was built by the Venice Republic near the end of the 15th century in exchange for control of the domain, from the Della Scala family on top of the ruins of their Roman fortress.
Grotte di Catullo is one the largest Roman villa ruins which can be seen from the top of Sirmione. As tradition claims the villa was home to the Roman poet Catullus, who died in 54 BC. The area is in a beautiful location, surrounded by olive and lemon trees.
Simione is famous for its thermal spas and sulphuric springs and many visitors come to experience its therapeutic properties.
Peschiera del Garda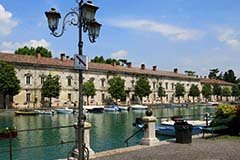 Peschiera del Garda is a small picturesque town situated to the south-east of the lake. Its town centre is contained within an enormous ancient fortress, with five sides in the shape of a star completely surrounded by water. There is plenty to see and do here, from Market Day to exploring the history to a short trip to Verona or Milan by train, ferry, bus or bike ride to other Garda towns.
Looking for more Italian lakes holidays?
If you cannot find a suitable tour to Italy contact us and let our experienced travel agents help you find your perfect holiday to any destination in Europe.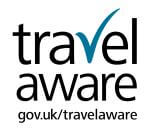 Whenever you choose to book a coach trip to Lake Garda you are sure to have a great time and take some amazing memories away with you from your holiday in this popular area of Italy. If you cannot find a suitable coach holiday to Lake Garda on our website contact us and our experienced advisers will help find your perfect break.
We are working with the Foreign and Commonwealth Office (FCO) to help British nationals stay safe abroad. The FCO website (www.fco.gov.uk/travel) offers straightforward travel advice, top tips and up to date country information to help you plan your holiday. Stay safe overseas, know before you go.