Coach Trips to Krakow
Coach trips and excursions to Krakow are very popular and available for the most holidays to Poland. We offer a great range of escorted tours to Poland and other destinations in Eastern Europe by coach and air, as well as affordable prices and great savings when you book with us.
Coach Holidays to Krakow Highlights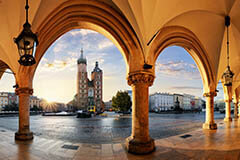 Main Market Square
In the city centre you will find the Main Market Square. It dates back to the 13th century and is one of the largest medieval town squares in Europe. It features magnificent architecture and works of art in gothic and renaissance style. Very beautiful traditional area with plenty of shops, restaurants, historic churches, museums and white horse drawn carriages. Great place to spend some lovely time and enjoy the atmosphere. And if you are visiting Krakow during the winter festive season be prepared to see a huge, beautifully illuminated Christmas tree and an impressive Christmas Market.
Wawel Royal Castle
Wawel Castle is one of the biggest castles in Poland and is a great historical place located just in central Krakow. The imposing castle was built in the early 14th century. While Krakow was the capital of Poland the fortified castle structures became the main residence and a fortress for Polish royalty. Today the Wawel Castle is the most popular attraction in Krakow. The interior of royal apartments provides marvellous design and the highest class works of art. Nowadays it also houses the Crown Treasury.
Krakow Old Town
The central and historic district of Krakow has been the royal capital of Poland for a long time, therefore offering marvelous and majestic architecture. It was made a World Heritage Site in 1978.
Planty Park
Lovely Park situated in the middle of Krakow surrounding the Old Town. Planty Park features wonderful plants, fountains and statues on a 52 acres areal. You will find perfect relaxation along the many footpaths and it is absolutely beautiful each season of the year.
Coach Trip to Auschwitz-Birkenau
Just 70 km from Krakow, Auschwitz-Birkenau complex is one of the most important places to visit on your coach holidays to Krakow if you are interested in history of the WWII. Consisting of two parts: Auschwitz and Auschwitz II – Birkenau, the former German Nazi concentration camp is now a memorial and a museum that has a great historical importance.
Whenever you choose a coach holiday to the Krakow you are sure to see many sights and attractions at this amazing city. If you cannot find a suitable tour to Poland contact us and let our experienced travel agents help you find your perfect tour to Poland or any other destination in Europe.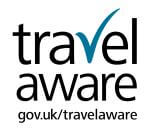 Remember, we are the UK's leading coach holiday website and have excellent value coach holidays to the UK, Europe and more with the widest choice and best prices.
We are working with the Foreign and Commonwealth Office (FCO) to help British nationals stay safe abroad. The FCO website (www.fco.gov.uk/travel) offers straightforward travel advice, top tips and up to date country information to help you plan your holiday. Stay safe overseas, know before you go.
Back to search for trips to Krakow