Coach Holidays to Innsbruck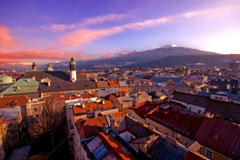 In Western Austria, in the federal state of Tyrol lies beautiful Innsbruck. The fair climate and the wonderful area of the Alps make the city a desired destination for hikers and skiers alike. Moreover, the beautiful old town affords a multitude of shopping possibilities, cultural events such as museums and cosy cafes and restaurants making the welcoming, homely town an attractive place for tourists.
At Coachholidays.com we have a wide range of coach trips to Innsbruck from short breaks to holidays and tours that take in Innsbruck and other areas of Austria and beyond. Use the search form to find coach tours to Innsbruck and find the cheapest Innsbruck coach trips departing from around the UK. Alternatively contact our experienced advisers who will help choose a coach holiday to Innsbruck suitable for you.
Innsbruck Coach Tour Highlights
During a Coach trip to Innsbruck you will have the chance to experience the city's fabulous architecture. Beautiful churches, gardens and museums make an Innsbruck coach holiday great for sight seeing.

Golden Roof

The roof was built in 1500 and was decorated with over 2600 fire-glided copper tiles for the Holy Roman Emperor, Maximilian I. The landmark in the inner-city affords in addition to it marvellous carvings and detail-rich design.

Schloss Ambras

The castle is overlooking the city of Innsbruck ever since 1595. The edifice houses ancient arms and armor and a very valuable art collection.

Innsbruck University Botanic Garden

This botanical garden in the heart of the city was established in 1911 and has been amended ever since, now covering over 2 hectare of beautiful plants from all over the planet.
Hofkirche
Ferdinand I. built this church in 1563 as a memorial for Maximilian I. The interior affords the well-decorated cenopath and impressive choirstalls and altar design.
Innsbruck Travel Guide
Coach holidays to Austria
Whenever you choose a coach holiday or coach tour to Innsbruck you are sure to find plenty to see and do. If you cannot find a suitable coach tour or trip to Innsbruck contact us and let our experienced operators help find your perfect coach holiday. If coach holidays to Innsbruck are not suitable we have a wide range of coach tours and trips that take in other areas of Austria that may be of interest.