Coach Holidays to Granada
In Southern Spain on the foot of the Sierra Nevada, at the confluence of three rivers, you can find the small town of Granada. The city stems back to 500 BC. This long history has influenced the exterior of Granada. Islamic design and European tradition form a vista extraordinaire. Moreover, the city has emerged as a fast-paced international city with a variety of cultural activities, prestigious Universities and a vibrant night life.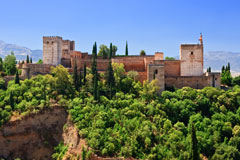 Granada Coach Tour Highlights
The Alhambra

This Arabesque palace and fortress was constructed during the 14th century.

Albayzin

This district of Granada retains the narrow winding streets and architecture of its Arabian past.

Mardrasah of Granada

This was the first university in Granada. Today it is the seat of the Royal Fine Arts Committee> 
Royal Chapel of Granada
This mausoleum houses the remains of several Spanish Catholic Monarchs in an astonishing building.
Granada Cathedral
A marvellous cathedral with detail-rich façade and a copious main aisle with fascinating illuminations.
Coach trips to Granada
There is much to see and do on a coach trip to Granada so use the search form to find a coach trip that matches your requirements. If you cannot find a suitable coach holiday to Granada on our website contact us and our experienced advisers will help find your ideal holiday.
If coach holidays to Granada are not for you we have a range of coach tours and trips that visit other cities and regions of Spain that may interest you: