Coach Holidays to Germany
From the fairytale castles of the Rhine and the dramatic scenery of the Harz Mountains to the poignant wartime legacies of beautifully restored cities, Germany is a country of fascinating diversity which everybody should experience. From the hanseatic north to the timeless, rural Black Forest, the revitalised cities of the east to the alpine splendour of Bavaria - there is so much to see! Relax on the waterways, enjoy a scenic ramble or immerse yourself in history. Our carefully chosen selection of themed holidays, river cruises and classic holidays ensure that there is something for everyone. We also have a number of great deals on coach holidays to the German Christmas Markets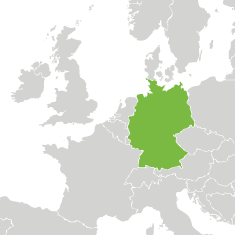 Berlin Coach Holidays

Berlin is not only Germany's capital but also its biggest city with our 3 million people living at the Spree. Ever-expanding and at the pulse of time. From diversified nightlife to worth-seeing museums. From lovely parks to historic sites. The juvenile metropolis has got it all.
Stuttgart Coach Holidays

In the midst of beautiful hills and vineyards, down in the valley lies Stuttgart. The automobile's cradle is among the top-ranked liveability cities in the world. Stuttgart combines classical beauty with modern and futuristic ideas and thinking. With its vast variety it can fit all your needs.
Frankfurt Coach Holidays

Germany's fifth-largest city is a city of contrasts combining the past, the present and the future. It's countless museums along the Main embankment display the cultural heritage of Germany. Right across the river, Mainhattan's skyline is home to international banking and commerce. For relaxation, go to one of the surrounding parks in Germany's greenest city.
Munich Coach Holidays

The Cosmopolitain city with a heart! Munich is located in the south of Germany just a few hours away from the Alps or the famous Neuschwanstein Castle. The city is not only home to the BMW headquarters but also home to innumerous museums and galleries and huge parks. If you want to experience German cosiness and metropolitan flair, Munich is the place to be.
Dresden Coach Holidays

Near the Czech border lies the Capital of Saxony, Dresden. After being completely destroyed during the War, it now shines in a new splendour, emerging as one of Germany's cultural, political and economical centres. The beautiful Elb valley offers a marvellous landscape.
Hamburg Coach Holidays

The maritime and cosmopolitan flair of the Hanseatic City of Hamburg will definitely cast a spell on you. It is a major location of industry and media and offers a multitude of attractions for your perfect holiday, from it's world renowned harbour to a multifaceted nightlife.
Cologne Coach Holidays

The Rhine Metropolis with its beautiful old city offers scenic views across the river. Cologne is home to a number of media companies and an important landmark for trade and commerce. Its appearance is characterized by the architectural masterpieces of German history. From modern to classical art Cologne provides for every taste. Furthermore it is famous for its spectacular fifth season: Cologne Carnival, a huge street festival with costumes, music and delicacies, a not-to-miss cultural event in a must-see city.
The Black Forest Coach Holidays

The wooded mountain range in south-west Germany covers an area of about 12,000 sqm. It offers an enormous biodiversity of plants and woods and animals like boar and deer of all kinds. The dazzling allure of the landscape is incredible. In the marvellous mountain range, you will find impressive hiking-trails and walking-paths that lead up to charming views across the landscape of this wonderful area. However, it is not only woods and rocks. The area provides beautiful lakes and natural rivers flowing through the valleys. Furthermore, you will find wonderful small cities with original German cookery and welcoming hospitality.
The Rhine Valley Coach Holidays

The dreamlike valley surrounding the Rhine River banks affords fair and beautiful sceneries. Still today, the longest and widest river of Germany is a vital and navigable way used for transporting both tourists and commodities. It runs past marvellous, well-preserved castles and landmarks, which testifies the importance of the long and crucial role of this waterway. One of the most beautiful sights is the Loreley, a statue carved into a 125m high slate-rock. This beautiful landscape of vast forests, a magnitude plants and rough rocks coupled with the beauty of the Rhine waters provide an incredible romantic experience.
Classic Coach Holidays

A nation with large expanses of timeless rural landscapes and wonderfully preserved towns, Germany has all the ingredients for a classic coach holiday. Sample the pretty towns of the Harz Mountains, the hospitality of the Rhineland, the quintessentially German Black Forest, or enjoy the peace and fresh air of unspoilt rural Bavaria.
River Cruises by Coach

Take a relaxing and picturesque journey down the most romantic stretches of the rivers Rhine and Moselle on board a cruise ship, passing hilltop castles and vinecovered slopes. Or experience Germany's cultural delights as you sail along the Elbe through Germany's cultural heartland, visiting Brandenburg, Wittenberg, Meissen and Dresden.
Themed Holidays by Coach

If you like history, Germany has history in abundance. Let 'Colditz and the Great Escape' uncover heroism, poignant loss and Germany's eventual recovery. Or step further back to admire the palaces and gardens of Germany's royal families. With cycling and walking holidays you can experience the Rhineland from a whole new perspective!
Foreign & Commonwealth Office Advice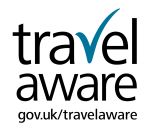 Stay safe overseas, know before you go
Whatever your reason for travelling abroad, you're sure to want a trouble free trip. Many of the things that often go wrong for travellers can be prevented or made less stressful by taking a few simple precautions. So it makes sense to spend a little time getting prepared before you travel, you could save yourself a lot of problems later on.
With this in mind, we are working with the Foreign and Commonwealth Office (FCO) to help British nationals stay safe abroad. The FCO website (www.gov.uk/knowbeforeyougo) offers straightforward travel advice, top tips and up to date country information to help you plan your holiday.
Tips include:
•
Make sure you have valid travel insurance, even if you're only planning a short trip.
•
Visit your GP at least 6 weeks before you travel to get any vaccinations you might need.
•
Read up on your destination, including local laws and customs.
•
Make photocopies of your passport, visas and insurance details and leave a copy with a relative or friend at home.
You can also find handy checklists to use before you set off and whilst you're away. Plus it's worth reading up on what the local British Consulate can do to help you if you run into problems abroad and what they can't do.
For all this and more information, visit the FCO website: www.gov.uk/knowbeforeyougo.