Coach Holidays to Geneva
Geneva is small is beautiful. An international fame city yet nothing pompous within it. Geneva is little more than town-sized and exceptionally simple like its residents. Located on a picturesque location, it is centred around the point where the River Rhône flows out of Lake Geneva (Lac Léman in French, Genfersee in German) flanked on one side by the Jura ridges and on the other by the first peaks of the Savoy Alps.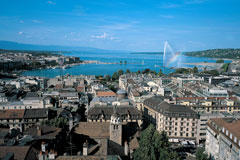 Geneva Coach Tour Highlights
Lake Geneva

The largest lake in central Europe offers wonderful landscape in the alpine setting. All around visitors will find, quaint wooden chalet villages, vineyard-slopes and the marvellous lake itself attract numerous visitors every year.

Jet d'Eau

The tallest fountain in the world set in the Lake. It pumps water 460 feet up in the air. Originally, it was supposed to release pressure for the hydropower generation on the Rhone River.

International Red Cross and Red Crescent Museum

One of the most thought provoking museums in Europe. The museum highlights the importance of human rights and historical conflicts in the 20th century in sculpture, installation, photography and film.
St. Peter's Cathedral
The cathedral commenced in 1160 lasted nearly a century. It features several architectonic styles in a wonderful blend. The interior offers marvellous paintings, statues and magnificent stained-glass.
Coach trips to Geneva
There is much to see and do on a coach trip to Geneva so use the search form to find a coach trip that matches your requirements. If you cannot find a suitable coach holiday to Geneva on our website contact us and our experienced advisers will help find your ideal holiday.
If coach holidays to Geneva are not for you we have a range of coach tours and trips that visit other cities and regions in Switzerland and the Swiss Alps that may interest you: