Frankfurt Christmas Market 2020
Coach holidays to historic city of Frankfurt and its charming and traditional Christmas Market. Frankfurt Christmas Market is one of the largest and most visited Christmas Markets in Germany. With so many creatively decorated stalls you are guaranteed to have an unforgettable Christmas experience.
More about Frankfurt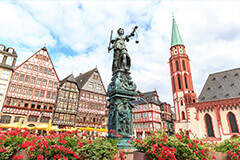 Frankfurt Coach Tour Highlights
Main Tower
Named after the river Main this tower is one of the tallest in Europe, offering a panoramic view across the city of Frankfurt.
Frankfurt Airport
The Airport is one of the busiest in Europe and the continents crucial transport point.
Museum Embankment
Over twelve museums are located on the beautiful river Main and are ready for you to explore them.
Goethe House
This house is birthplace to famous poet and thinker Johann Wolfgang von Goethe and is today home to the Goethe Museum
Paulskirche
In 1848 the first German National Congress gathered at this church to lay the foundation for a democratic German Nation
Remember, we are the UK's leading coach holiday website and have excellent value coach holidays to Europe with the widest choice and best prices.