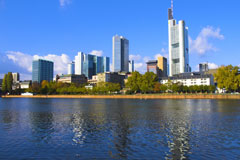 Coach Holidays to Frankfurt
Germany's fifth-largest city is a city of contrasts combining the past, the present and the future. It's countless museums along the Main embankment display the cultural heritage of Germany. Right across the river, "Mainhattan" 's skyline is home to international banking and commerce. For relaxation, go to one of the surrounding parks in Germany's greenest city.
Frankfurt Coach Tour Highlights
Main Tower

Named after the river Main this tower is one of the tallest in Europe, offering a panoramic view across the city of Frankfurt.

Frankfurt Airport

The Airport is one of the busiest in Europe and the continents crucial transport point.

Museum Embankment

Over twelve museums are located on the beautiful river Main and are ready for you to explore them.
Goethe House
This house is birthplace to famous poet and thinker Johann Wolfgang von Goethe and is today home to the Goethe Museum.
Paulskirche
In 1848 the first German National Congress gathered at this church to lay the foundation for a democratic German Nation.
Coach trips to Frankfurt
Whenever you choose a coach trip to Frankfurt you are sure to enjoy the sights and attractions in and around the city to provide a great holiday experience. If you cannot find a suitable coach holiday to Frankfurt contact us and our experienced operators will help find your perfect break. If coach holidays to Frankfurt are not for you we have a wide range of coach holidays and trips that take in other cities and regions of Germany that may be of interest.