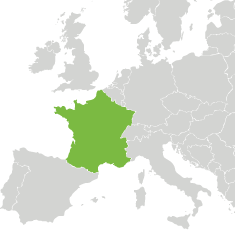 Coach Holidays to France
We have the cheapest France coach holidays leaving from local departure points across the UK with leading coach operators: Gold Crest, Crusader, Leger, Shearings, National Holidays and more. We also have a number of great deals on coach holidays to the France Christmas Markets this winter with many discounted trips available.
If you are looking for excitement near Paris have a look at our coach holidays to Disneyland Paris with with attractions to suit all ages. So search coach tours to France and find discounted coach trips to France's best regions and cities.
France
France has been the world's most popular tourist destination for over twenty years (81.9 million in 2007) and it's geographically one of the most diverse countries in Europe. Its cities contain some of the greatest treasures in Europe, its countryside is prosperous and well tended and it boasts dozens of major tourist attractions, like Paris, Côte d'Azur (the French Riviera), the Atlantic beaches, the winter sport resorts of the Alps, the Castles of Loire Valley, Brittany, Normandy: Mont Saint Michel. The country is renowned for its gastronomy (particularly wines and cheeses), history, culture and fashion.
Paris Coach Holidays
Find coach tours to Paris and get the best deals on coach trips to Paris from departure points across the UK. The City of Lights invites you to enjoy its many sights and attractions, glamour, and romantic atmosphere. Enjoy Paris life in one of the many cafés and restaurants, shop in the trendy boutiques, stroll along the boulevards or the banks and bridges of the Seine and soak up the Parisian way of life.
Strasbourg Coach Holidays

Near to the German border lies Strasbourg. The small city is the seat of several EU institutions, thus being a polyglot, cosmopolitan city. Furthermore, Strasbourg has established as one of the important manufacturing and engineering centres of Europe. The French atmosphere is present throughout the town offering romantic walks through small alleys and wonderful opening squares. Far off the busy capital this gem features unique architecture and beautiful landscapes in the near Rhine valley
Bordeaux Coach Holidays

The world's major wine industry capital is located at the west-coast of France. Once inhabited by the famous Neanderthal, Bordeaux has emerged a modern city maintaining its traditions. It has always been an important centre of trade and commerce for overseas goods. The Mediterranean climate makes this Atlantic-resort a desired destination. The huge variety of landmarks, museums and cultural diversity play a major part in contributing to this. The artistic architecture and incredible design of French artists form the beautiful exterior of Bordeaux, 'The City of Art and History'.
Marseille Coach Holidays

The seaport of Marseille on the south coast of France can look back on a long history. The area has been inhabited for over 30,000 years as cave paintings prove. Alternately ruled by the Greeks and Romans, who found Marseille an important port in the Mediterranean Sea, the city has established a unique vista. Today the capital of the Cote-Azur area is the southern centre of culture and entertainment with important theatres and opera houses, museums and exclusive cuisine.
Nice Coach Holidays
The largest city of the French Riviera is believed to be among the oldest human settlements in Europe. Going back to 350 BC, Greeks used the strategic location and built a port which contributed to the cities maritime strength it still maintains today. The Mediterranean Nice and its surrounding landscape have been a desired destination ever since the 18th century. Not only provides the city for thorough relaxation but also for mental inspiration, which made Nice a mecca for artists. Besides its many hotels, the city also consists of numerous museums, theatres, opera houses and other major cultural facilities.
Biarritz Coach Holidays

Biarritz is located in the west of France only 38 km away from Spanish border right at the prestigious Atlantic coast. The tall waves crashing down here are a delight to international surfers. What has once been fishing village has now become a desired destination and interesting, international landmark in France, with its stunning beach and the marvellous surrounding landscapes.
Deauville Coach Holidays

With its casinos and palaces, Deauville is considered as one of the most prestigious cities in France. The city located on the north coast of France attracts several million visitors per year. It has been a beloved image by impressionist artist who came here seeking inspiration. Its cultural heritage maintains along with a vibrant nightlife offering discotheques, bars and bustling boulevards full of cultural activities.
Lyon Coach Holidays

Lyon in the Rhone-Alpes Region is one of France's major centres of business. Furthermore it is said to be the culinary capital of France, offering fine, delicious cuisine at almost every corner. The city and its beautiful, wonderful architecture have made Lyon a UNESCO World Heritage Site. In history Lyon has been known as the silk capital of the world, nowadays specializing in chemical, pharmaceutical and biotech industries. The city's tradition as part of The Roman Empire has pressed ahead its cultural development, today consisting of several museums, galleries and churches.
Northern France Coach Holidays

Find coach tours to northern France and get the best deals on coach trips to Brittany, Normandy and other northern France destinations. Explore Normandy with deep wooded valleys and glorious orchards or scenic Brittany with 600 miles of coastline. The Loire is home to magnificent castles and gardens. Beyond the glamour of Champagne lies a region of rolling plains and vineyards and in Alsace the `Route des Vins' is dotted with picturesque villages.
Coach Holidays to South of France

Find coach trips to the south of France and get the best holiday offers on coach trips to the french riviera and southern France. For touring holidays in south France you can search for Saga Holidays, they have a good choice of best south destinations.
The Dordogne is a land of lush valleys and steep gorges tumbling into rivers and few could deny the beauty of the French Alps. Burgundy is famous for its celebrated wines and cuisine. In addition to historic Roman cities, the rolling hills of Provence are terraced with vines and olive trees. Last but not least the sophisticated resorts of the French Riviera offer an insight into the life of the rich and famous.
Foreign & Commonwealth Office Advice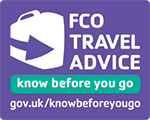 Stay safe overseas, know before you go
Whatever your reason for travelling abroad, you're sure to want a trouble free trip. Many of the things that often go wrong for travellers can be prevented or made less stressful by taking a few simple precautions. So it makes sense to spend a little time getting prepared before you travel, you could save yourself a lot of problems later on.
With this in mind, we are working with the Foreign and Commonwealth Office (FCO) to help British nationals stay safe abroad. The FCO website (www.gov.uk/knowbeforeyougo) offers straightforward travel advice, top tips and up to date country information to help you plan your holiday.
Tips include:
•
Make sure you have valid travel insurance, even if you're only planning a short trip.
•
Visit your GP at least 6 weeks before you travel to get any vaccinations you might need.
•
Read up on your destination, including local laws and customs.
•
Make photocopies of your passport, visas and insurance details and leave a copy with a relative or friend at home.
You can also find handy checklists to use before you set off and whilst you're away. Plus it's worth reading up on what the local British Consulate can do to help you if you run into problems abroad and what they can't do.
For all this and more information, visit the FCO website:
www.gov.uk/knowbeforeyougo
.
France Tourist Information